COVID-19 Coping Strategies from Pitt Psychiatry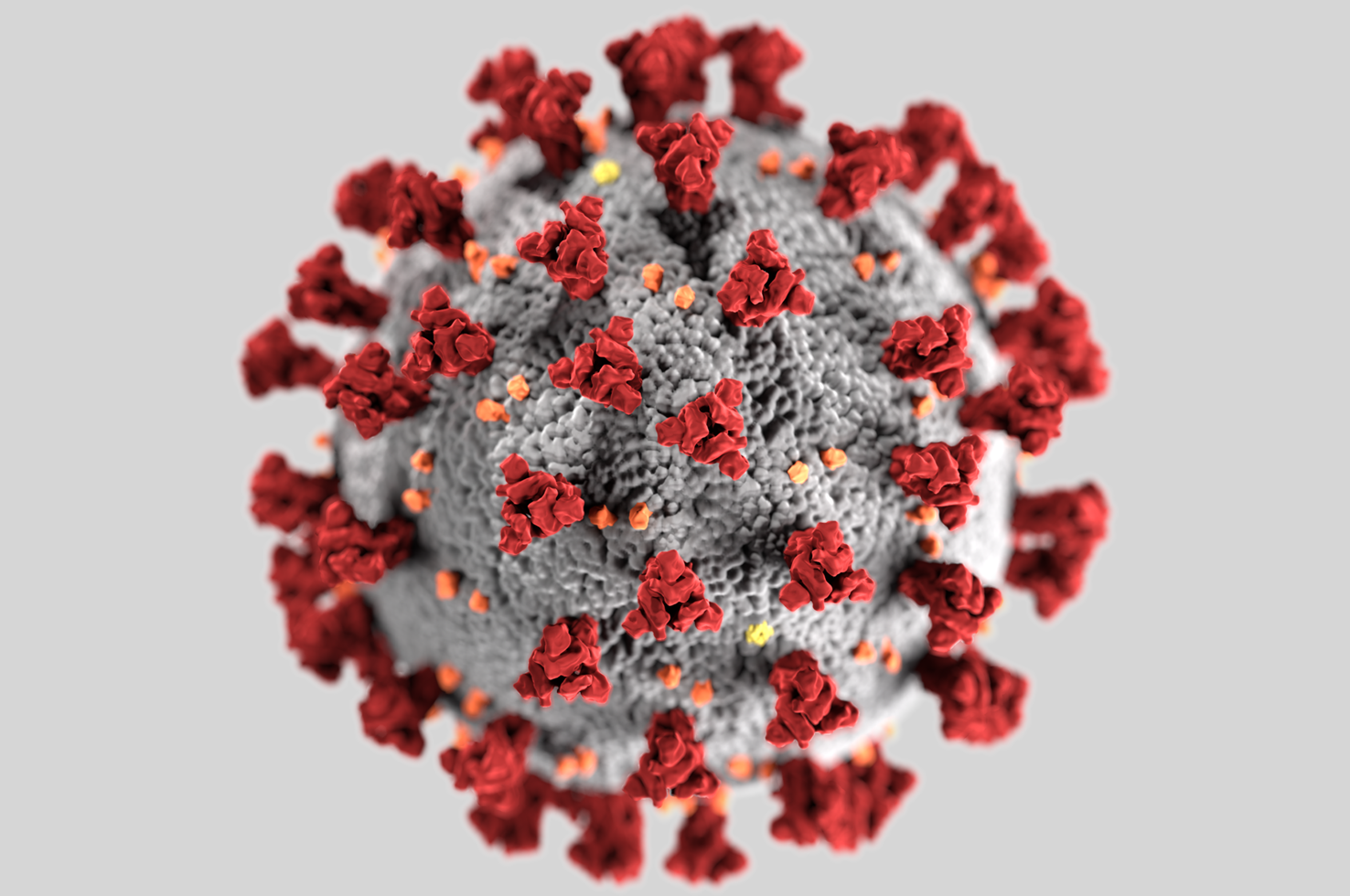 Physical distancing, stay-at-home orders and economic uncertainty resulting from the current COVID-19 pandemic have raised behavioral health concerns for many people. Below is a selection of strategies from Department of Psychiatry faculty and trainees on how to cope with the drastic alteration of our home, social and professional lives.
For Kids and Adolescents
Rameshwari Tumuluru, MD, an expert in helping children manage overwhelming thoughts and feelings through mindfulness, explains that the consequences of social distancing for some children can include worsening of existential crises, sense of doom, uncertainty about the future. To address these challenges using mindfulness, families can follow these steps: 
•    Acknowledge that things have been tough and different
•    Teach children to stay in the present
•    Take a deep breath and listen without judgment
•    Take a time out
•    Be kind to ourselves and each other. 
Adolescents—who value increased peer interaction and who can be vulnerable to anxiety and depression—may experience extra difficulty with the abrupt shift in the social environment. Cecile Ladouceur, PhD, explains that for some teenagers, staying home may actually reduce anxiety related to school and peer interactions, whereas others may experience loneliness or depression. "For teens who are already in therapy, some may need encouragement to continue treatment through telehealth, as they may feel uncomfortable with it at first," says Dr. Ladouceur. 
Erika Forbes, PhD, recommends that adolescents with depression and anxiety build positive emotions in four ways:
Keep healthy habits: Maintain a daily routine that includes a regular wake-up time, sufficient sleep and exercise.

Reduce stress: Engage in relaxing activities such as mindfulness or gratitude practice.

Increase enjoyment: Find humor and fun by watching comedy movies or shows, playing a silly virtual game with friends and planning video chats with the people who make you laugh.

Help others: Drop off a note or a necessity at a neighbor's front door; contribute to local efforts to help those who are struggling most.
For parents working from home, Marta Peciña, MD, PhD, echoes the benefits of flexibility, a consistent schedule and acknowledging and accepting all feelings. She recommends that parents "store gratitude and share it with others. Also, find opportunities to celebrate—and don't forget to open your windows and listen to the birds!"
Holly Swartz, MD, explains why establishing and maintaining a routine is so important. The body's internal biologic clock is a key mechanism for enhancing daily wellbeing. However, the social distancing measures that protect our physical health also disrupt our mental health. "When faced with major upheavals in our lives, our body clocks have much more difficulty re-establishing regular biologic rhythms. Paying attention to routines may be especially important during times of stress to keep your body clock regular and your mood stable." 
For Ourselves
Getting healthy sleep is also critical to maintain emotional wellbeing, says Martica Hall, PhD. Two of Dr. Hall's trainees, Marissa Bowman (in the dual Clinical and Health Psychology Program at the University of Pittsburgh) and Jessica Hamilton, PhD (postdoctoral fellow), developed an infographic with strategies for maintaining a healthy sleep cycle: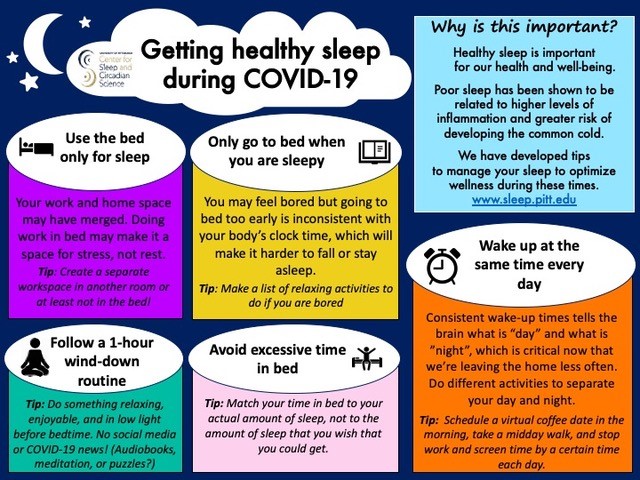 Nadine Melhem, PhD, emphasizes that routine, exercise and virtual social connection is important for every member of the family during this period. In addition, she explains, "For those who can, helping people in need—in whatever capacity that keeps us connected to our community—is incredibly important. Maintaining connectedness at the individual level—by identifying your own feelings—as well as at the social and community levels are always important, especially now." 
It is important to be mindful of the effects of the pandemic, and associated protective measures, among vulnerable populations. "Past research shows increased suicide rates in vulnerable populations during epidemics and during financial crises," explains Julia Farquhar, MD (PGY-2 Psychiatry resident). "Unfortunately, the current epidemic combines both. If we can identify and support groups at higher risk for suicide, we could also mitigate some of the negative mental health effects of the virus and help our patients move toward positive growth."
For New and Expecting Mothers
Priya Gopalan, MD, an expert in perinatal psychiatry, says that COVID-19 has "turned everything upside-down for expecting moms. We typically want expecting moms to tap into their village and bolster their supports, and the stay-at-home orders—as absolutely appropriate as they are—have not allowed for that." 
Dr. Gopalan explains that the most important thing for expecting mothers to do is accept any and all feelings, including anxiety, fear, disappointment, anger or guilt. Then, take time to focus on self-care, whether meditation, yoga, exercise or journaling. 
For the Elderly
Individuals who are 65 and older are at higher risk for severe illness from COVID-19. Sarah Stahl, PhD, recommends three key areas for helping loved ones stay safe and healthy:
Evaluate your strengths: If you're good with money, help with playing bills and managing finances online. If you're an organizer, help coordinate medical care, grocery deliveries and communication with family members.

Stay connected: Phone calls go a long way toward promoting emotional health. Spend quality time over the phone by watching a movie, reading together or having a breakfast date. Social distancing can also increase feelings of sadness or depression; if you think your loved one is depressed, encourage them to call their PCP to explore remote counseling options. 

Establish an emergency plan: If your loved one suddenly needs medical attention, have a plan in place so you can act immediately. Pack a travel bag, keep contact information for doctors, neighbors and family members handy, and agree in advance on roles and responsibilities among all caregivers. 
For all populations, emotional health and wellbeing can be supported during this challenging period by those strategies most frequently cited by behavioral health experts: establishing routine, practicing mindfulness, and helping those who may be particularly vulnerable.