Daniel Buysse, MD, Beatriz Luna, PhD, and Mary Phillips, MD, MD (Cantab), Honored with Distinguished Professorships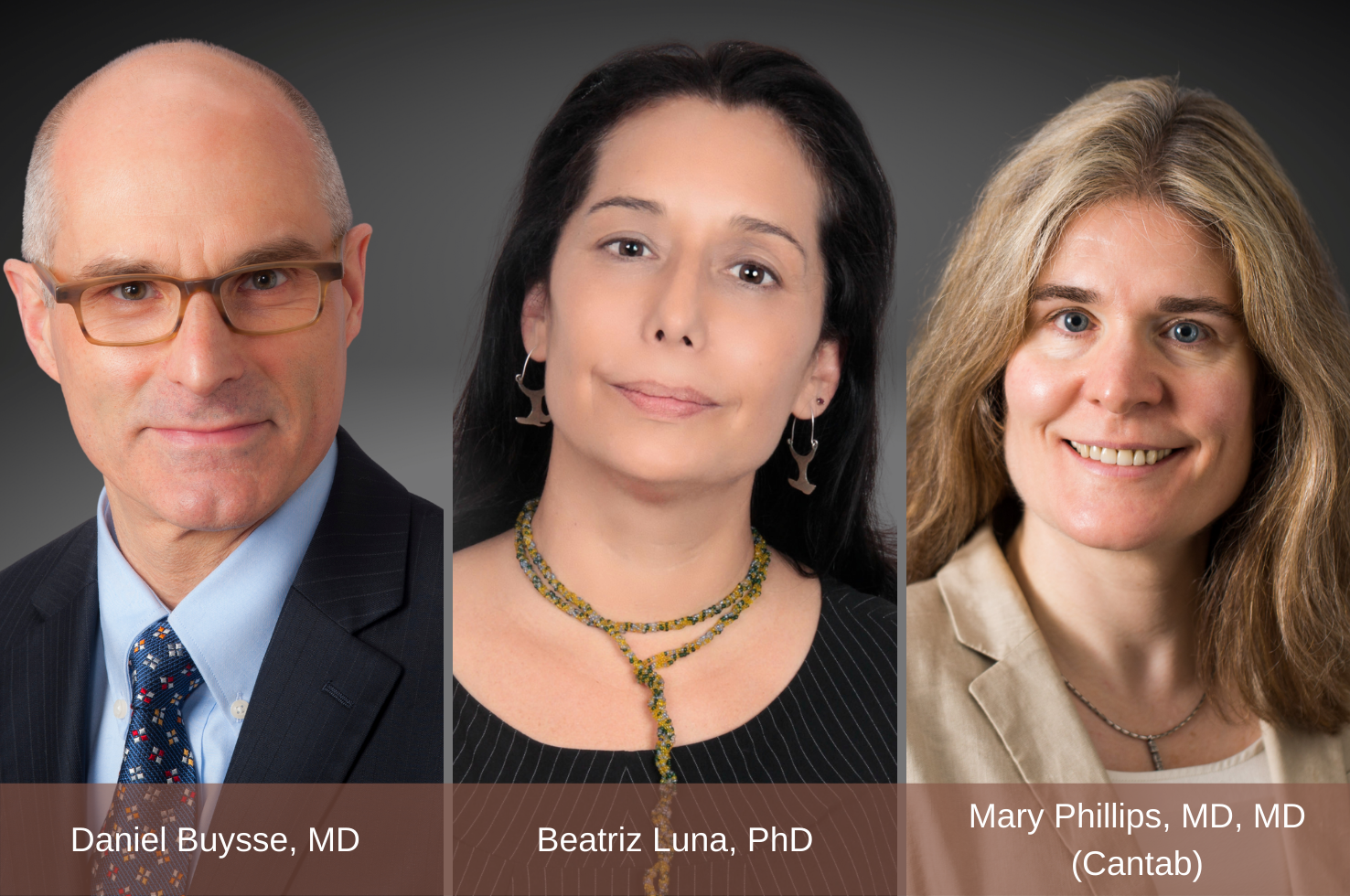 We are delighted to announce that Daniel Buysse, MD, Beatriz Luna, PhD, and Mary Phillips, MD, MD (Cantab), have each been appointed Distinguished Professor by the University of Pittsburgh. A distinguished professorship constitutes the highest honor that the University can accord a member of the professoriate. 
---
Daniel Buysse, MD (Distinguished Professor of Psychiatry and UPMC Endowed Chair in Sleep Medicine)
Dr. Buysse has achieved worldwide recognition for his sleep medicine research. His pivotal work on sleep disorders has set national and international practice standards for the diagnosis, assessment, pathophysiology, and treatment of insomnia. 
In addition to his insomnia research, Dr. Buysse's work focuses on the interactions between sleep and circadian rhythms, behavioral interventions for sleep, and the impact of multidimensional sleep health on other health outcomes. One of numerous notable achievements is Dr. Buysse's first-authorship of the manuscript describing the Pittsburgh Sleep Quality Index (PSQI), a self-report sleep scale that has been used in the study of more than 20 medical conditions and diseases. Dr. Buysse also played a leading role in developing the Patient-Reported Outcome Measures Information System (PROMIS) Sleep Disturbance and Sleep-Related Impairment scales, part of the National Institutes of Health (NIH) Roadmap Initiative. 
Dr. Buysse is co-director of the National Institute on Drug Abuse (NIDA) P50 Center for Adolescent Reward, Rhythms, and Sleep (CARRS). This center grant investigates how changing patterns of sleep and circadian rhythms during adolescence may affect brain reward systems, ultimately leading to increased risk for substance use.
An outstanding educator, Dr. Buysse has made tremendous contributions to training the next generation of sleep research scientists, and currently serves as program director of the National Heart, Lung, and Blood Institute-funded Translational Research Training in Sleep and Circadian Science T32 postdoctoral program.
Dr. Buysse has held important leadership positions in national and international scientific organizations, including serving as president of the American Academy of Sleep Medicine, and as a member of the Society of Behavioral Sleep Medicine Board of Directors. He is a fellow of the American Academy of Sleep Medicine and is the recipient of the Academy's prestigious Nathaniel Kleitman Distinguished Service Award. In addition, he is an elected member of the Association of American Physicians, a recipient of the Society of Behavioral Sleep Medicine Peter Hauri Career Distinguished Achievement Award, and of the University of Pittsburgh Chancellor's Distinguished Research Award. 
Beatriz Luna, PhD (Distinguished Professor of Psychiatry and Staunton Endowed Chair in Pediatrics and Psychiatry)
An internationally recognized developmental neuroscientist, Dr. Luna is a leader in the study of the neural basis of cognitive development. Her findings have influenced views of how lifetime trajectories are disrupted in psychiatric illness, and have had substantial impact on public policy.
Dr. Luna is a pioneer in the usage of multi-modal neuroimaging methods to identify the brain systems that undergo developmental specialization in the transition from adolescence to adulthood, a developmental period when psychopathology often emerges. She has provided innovative evidence for her Driven Dual Systems Model, which posits that during adolescence, brain systems supporting cognition are available but are driven by elevated levels of reward and sensation seeking. She found, for the first time in humans in vivo, that while dopamine availability is established by adolescence, D2/D3 receptor density decreases into adulthood—work that contributed to a non-invasive MRI approach to obtain measures of dopamine availability.
Dr. Luna has an exceptional track record of mentoring numerous graduate students, postdoctoral fellows, research fellows, and early-career faculty members. She was recently selected as a recipient of the 2022 Provost's Award for Excellence in Doctoral Mentoring, which recognizes outstanding mentors at Pitt who have had the greatest impact on students seeking research doctorate degrees. 
Dr. Luna is the recipient of numerous national awards, including the Presidential Early Career Award in Science and Engineering. She is a fellow of the World Innovation Foundation and of the Association for Psychological Science. Her national scientific contributions include serving as founder and president of the FLUX Society, an international professional society dedicated to advancing the understanding of human brain development. She has served on the Advisory Committee to the NIH Director, and as a member of the NIDA Board of Scientific Counselors. Dr. Luna made pivotal contributions to two American Medical Association briefs to the US Supreme Court on the status of the adolescent brain and behavior regarding life without parole. She additionally serves as editor-in-chief for Developmental Cognitive Neuroscience, the predominant journal in her area of study. 
Mary Phillips, MD, MD (Cantab) (Distinguished Professor of Psychiatry and Pittsburgh Foundation-Emmerling Endowed Chair in Psychotic Disorders)
Dr. Phillips is an international leader in affective neuroscience, specifically in the identification of neural correlates that underlie the symptoms of specific abnormalities in emotion processing in people with mood disorders. Her scientific contributions have been both exceptional and field changing.
Dr. Phillips's ground-breaking research employs multimodal imaging, and novel computational and translational approaches that yield neural biomarkers reflecting these processes and answer critically important questions relating to diagnosis, early identification, and treatment of these disorders in youth and adults. Her work has identified abnormalities in prefrontal-striatal reward circuitry that are specific to bipolar disorder, aided in more accurate and rapid diagnoses, and identified youth who are at future risk of the disorder. She is currently working to discover how these bipolar disorder biomarkers can be focally targeted by a new neuromodulation technique, theta burst stimulation, to develop more effective treatments for bipolar and related disorders.  
Dr. Phillips has made tremendous contributions to the educational mission of the Department of Psychiatry and the University of Pittsburgh—her superb teaching and mentoring have been recognized by a University of Pittsburgh Department of Psychiatry Outstanding Mentor Award. She is a member of the training faculty for the NIH-funded Clinical Research Training Program in Child Psychiatry and the Translational Research Training in Sleep Medicine T32 training programs, as well as in the federally funded Career Development Institute for Psychiatry. 
On a national level, Dr. Phillips has served as Councilor at Large and President of the Society of Biological Psychiatry (SOBP). She is the recipient of numerous awards, including the American College of Neuropsychopharmacology's (ACNP) Joel Elkes Award for Outstanding Clinical Research, the 2017 Brain and Behavior Research Foundation Colvin Prize for Outstanding Achievement in Mood Disorders Research, the University of Pittsburgh Chancellor's Distinguished Research Award, and the SOBP George N. Thompson Award for Distinguished Service. She was also appointed an ACNP fellow and, in 2019, was elected a member of the ACNP Council.
Please join us in congratulating Dr. Buysse, Dr. Luna, and Dr. Phillips!