JAMA Psychiatry: The Association of Reinforcement Learning Disruptions and Major Depressive Disorder and Sensitivity to Symptom Change Following Cognitive Behavioral Therapy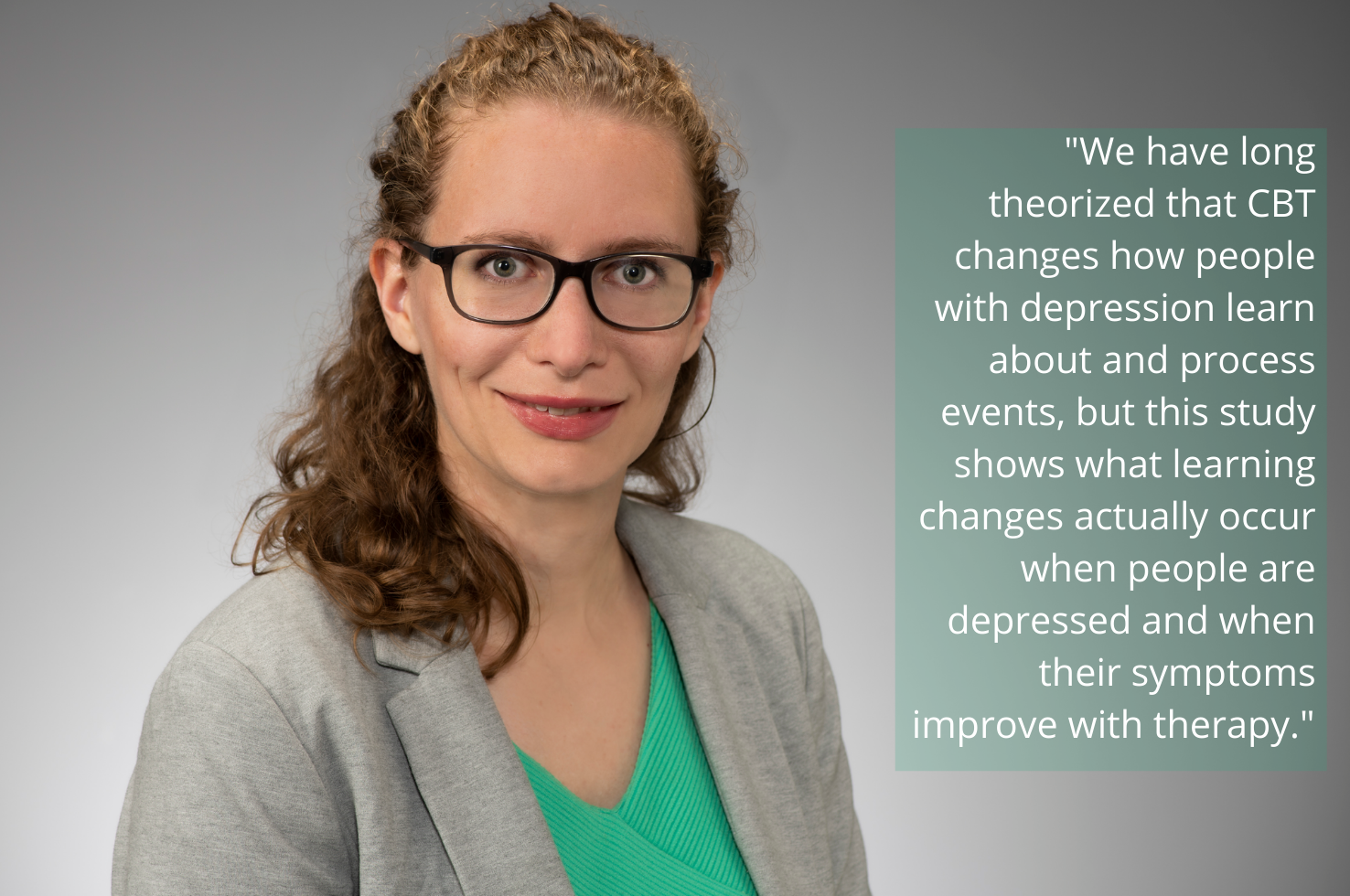 Major challenges associated with the characterization and treatment of major depressive disorder are largely due to the heterogeneity of associated symptoms, though recent research has focused on anhedonia and negative affect as potentially useful treatment targets.
In a recent JAMA Psychiatry study, investigators including Vanessa Brown, PhD (Assistant Professor of Psychiatry), the study's first author, studied if distinct processes in reward and loss learning are associated with core depressive symptoms, anhedonia and negative affect, and tested the translational relevance of these impairments by examining their responsiveness to cognitive behavioral therapy (CBT) treatment.
The study included 69 individuals with major depressive disorder and a comparison group of 32 individuals without a history of mental illness. Participants self-reported symptoms of anhedonia, negative affect, and anxious arousal, and completed a clinical interview to determine depression diagnosis. Participants next completed a reward and loss learning task with the goal of learning which of two options was more likely to lead to a higher outcome—a larger reward or smaller loss—while undergoing functional magnetic resonance imaging. Twenty-eight of the participants with depression next engaged in cognitive behavioral therapy for 12 weeks, after which their symptoms were reassessed. 
Results from the study revealed that during reward learning, anhedonia (but not negative affect or arousal) was associated with model-derived learning parameters. During loss learning, negative affect (not anhedonia or arousal) was associated with learning parameters and disrupted neural encoding of learning signals. Symptom improvement following cognitive behavioral therapy was associated with normalization of learning parameters that were disrupted at baseline.
"We have long theorized that CBT changes how people with depression learn about and process events, but this study shows the learning-related changes that occur when people are depressed and when their symptoms improve with therapy. These findings will help us tailor treatments like CBT to improve symptoms and to develop new or complementary treatments to change learning," said Dr. Brown. 
Reinforcement Learning Disruptions in Individuals With Depression and Sensitivity to Symptom Change Following Cognitive Behavioral Therapy
Brown VM, Zhu L, Solway A, Wang JM, McCurry KL, King-Casas B, Chiu PH
JAMA Psychiatry. Published online July 28, 2021. doi:10.1001/jamapsychiatry.2021.1844