C-ROC: A "Sanctuary and Unifying Force" for UPMC Residents and Fellows of Color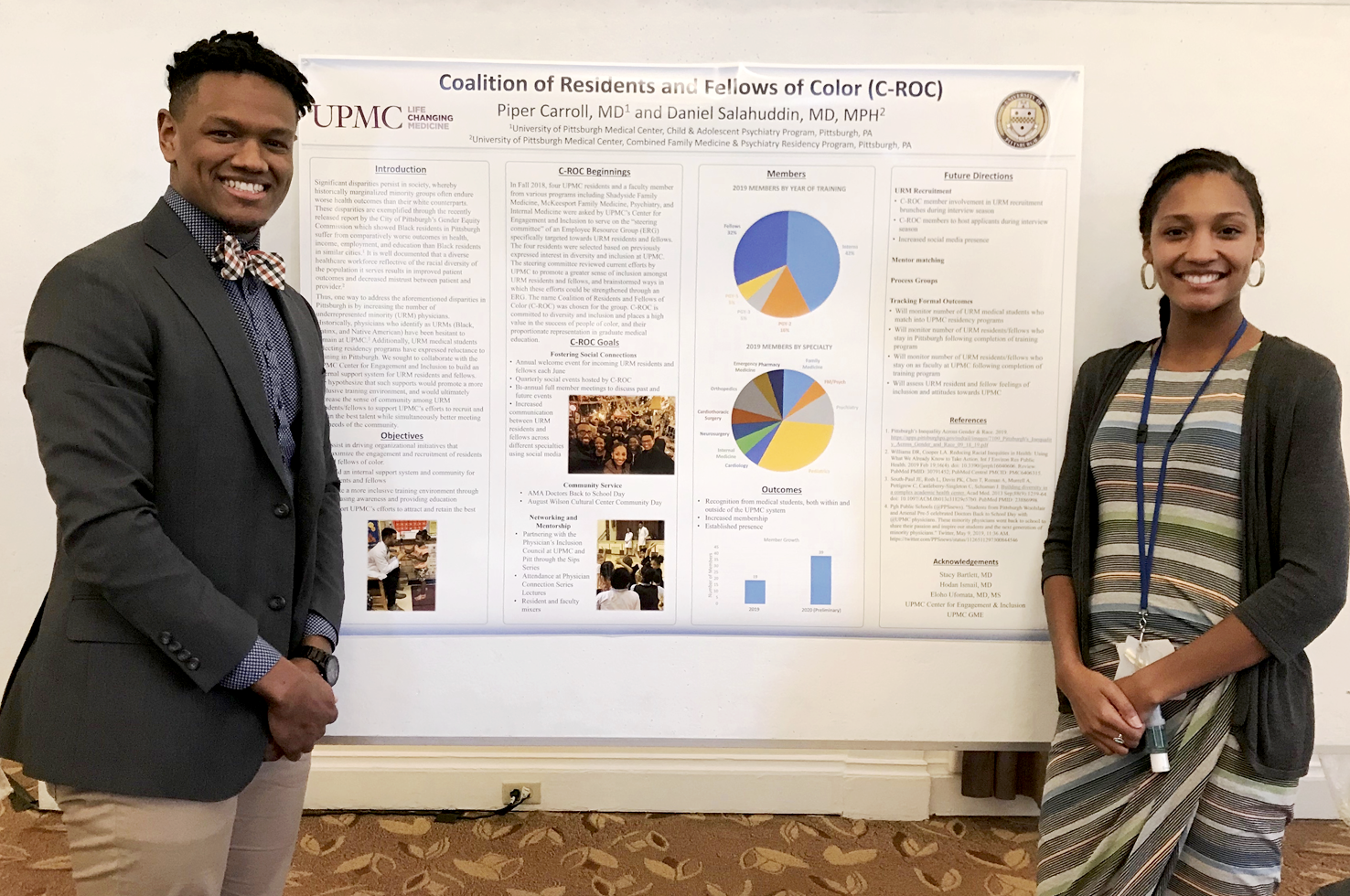 The Coalition for Residents and Fellows of Color (C-ROC) is a UPMC Employee Resource Group that provides networking, social, and community engagement opportunities for residents who are under-represented in medicine (URiM). Psychiatry residents Piper Carroll, MD (PGY4), and Daniel Salahuddin, MD, MPH (PGY4), are C-ROC founding members, steering committee members, and co-chairs. 
We spoke with Dr. Carroll and Dr. Salahuddin to learn more about the origins, activities, and benefits of C-ROC, as well as how the group has adapted during COVID. 
The Origin of C-ROC
The UPMC Center for Engagement and Inclusion approached Dr. Salahuddin and Dr. Carroll to gauge interest in forming an employee advocacy group to build inter-departmental connections among residents and fellows of color. C-ROC was conceived as a place for URiM residents to go for friendship and support, and to help each other manage feelings of isolation. 
"In the beginning, it was just us and two family medicine residents from Shadyside," said Dr. Carroll. But C-ROC's profile and popularity grew quickly. "There's been a real snowball effect where C-ROC became a well-known entity thanks to our visibility. Today the Coalition is known as a sanctuary and unifying force for URiM house staff," explained Dr. Salahuddin.
C-ROC Activities Before and Since COVID
C-ROC members keep in regular contact through social apps and email. Before COVID, members also planned wide-ranging social events such as happy hours, an annual Juneteenth event, and "Doctors Back-to-School," in which residents visited elementary schools to talk to students about careers in the health profession. "We wore our white coats, and the kids were so happy and excited to see doctors who look like them. The best part was that it was clear that they were also very proud. The community piece of C-ROC is so important to this group," said Dr. Carroll. 
Dr. Carroll and Dr. Salahuddin are particularly enthusiastic about the Juneteenth happy hour, which the group hosted in 2019. Its timing aligned well with interns' arrival in Pittsburgh and at UPMC. "That event is especially important because as soon as interns arrive here, they get to become part of this community, and that's so meaningful for them," said Dr. Carroll.
During COVID, C-ROC also hosted a socially distanced night screening of Coco for residents and fellows and their families, in nearby Schenley Park. C-ROC has also held virtual social hours to enable members to get together and catch up, as well as a Black History Month bingo game in February. 
The Continuing Evolution of C-ROC
In the near future, Dr. Salahuddin and Dr. Carroll want to establish a space for C-ROC members to come together to discuss and help each other process their day-to-day experiences as physicians of color. 
"We can't wait to get back to being able to what we built before COVID happened. We have a lot that we want to do," said Dr. Salahuddin.
Click here to watch Dr. Carroll and Dr. Salahuddin discuss C-ROC.