"There is no one else who does the combination of things I do." Meet the Office of Clinical Affairs Staff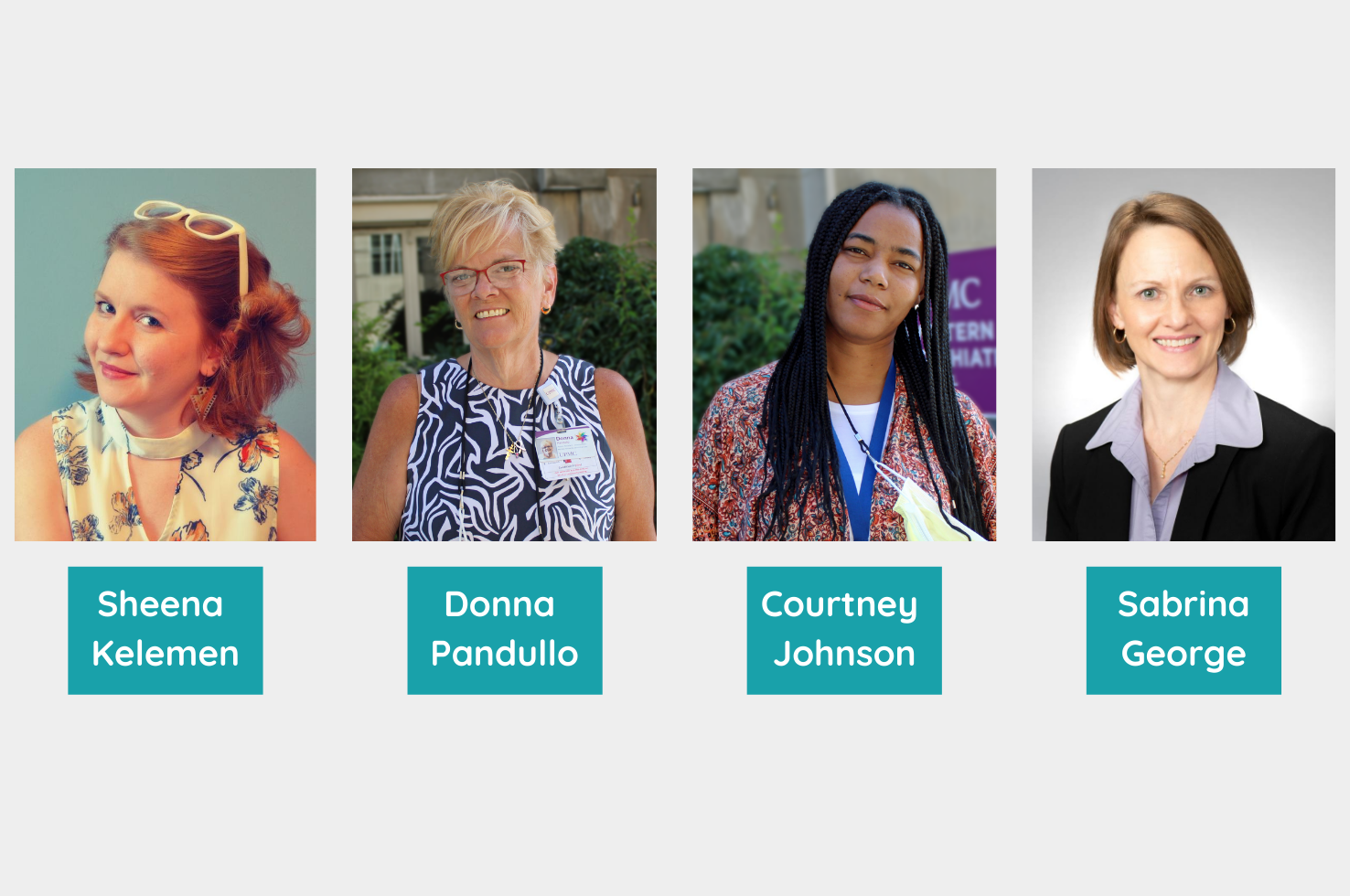 Sheena Kelemen, Donna Pandullo, Courtney Johnson and Sabrina George are well-known for skillfully helping to organize and manage the UPMC Western Psychiatric Hospital (WPH) Office of Clinical Affairs (OCA) with efficiency and good spirit. 
The apparent omniscience and omnipotence of this team allows Department of Psychiatry clinical faculty and WPH physicians to provide the highest quality care to patients in WPH inpatient units, ambulatory sites and throughout the UPMC behavioral health network. 
Below, get to know Sheena, Donna, Courtney and Sabrina.
 
---
Sheena Kelemen (Coordinator of Clinical Affairs)
What do you do in the Office of Clinical Affairs?
My job is divided into four areas: clinical physician recruitment for WPH and the UPMC Behavioral Health Network, physician credentialing and onboarding, special projects (which has included coordinating board exams, writing articles, and coordinating a hospital strategic plan) as well as good old troubleshooting—fixing  problems and putting out fires.
What kind of fires do you put out?
This falls under the category of "call Sheena because we don't know who else to call." One recent example is when a physician needed help because their cell phone number was being printed on prescription bottles. 
How long have you been in this position and what were you doing before?
I've been in the OCA for ten years, but I've only ever worked at WPH! Although I was a dancer and theater person in high school, I went to Pitt for an undergrad degree in psychology. I was hired in the Office of Residency Training (ORT) for my work-study job. The job eventually morphed into a full-time position after graduation. I spent seven years in the ORT under the direction of Ken Nash, MD (Professor of Psychiatry) and then Michael Travis, MD (Associate Professor of Psychiatry) before moving to OCA, when Dr. Nash was appointed Chief of Clinical Services. I continued taking on more responsibilities, growing the position to what it is today. The job continues to change—day to day, sometimes.
Tell us something strange or unique about your job.
There is no one else who does the combination of things I do. It's a hodge-podge and an expansive range of responsibility. I love that I get to attend executive leadership meetings, but you'll also see me walk into someone's office and change the trash. My Clifton Strengths Finder says I'm an Achiever, so I love to accomplish tasks, no matter the size or difficulty. I really love being around the doctors all day, too. They're an intellectual crowd full of fun personalities. 
What's something that we might not know about you?
I was a finalist for the Dove commercial contest during the 80th Academy Awards, and I've spent the night in Cinderella's Castle! (I wanted to say I have a corgi named Biscuit, but everyone knows that already.)
 
---
Donna Pandullo (Senior Administrative Assistant to Ken Nash, MD and James Tew, MD)
Donna, you support both Dr. Nash and Dr. Tew (Associate Chief of Clinical Services, Inpatient and Medical Director, Quality & Clinical Pathways). What does that entail?
I keep them organized and on task. I schedule meetings and make sure they have the background information they need. I set and maintain the WPH call schedule and help coordinate vacation coverage for attendings. I also work with Gina Perez, MD (Associate Chief, UPMC Behavioral Health Network) with physician assistants and nurse practitioners, doing placement throughout the facility with other physicians to complete their training. Finally, since Dr. Nash is the Pittsburgh Steelers and Pittsburgh Penguins team psychiatrist, I coordinate the players who need to see him. 
That's a lot! How long have you been here and what did you do before?
I've been at WPH for five years. I am trained in accounting and before this, I worked for a family-business flower shop for 15 years. 
What's the best part about your job?
I love working with the Steelers and the Penguins. They are always appreciative of what we do, and flexible about scheduling challenges.
What's the biggest challenge you face in your role?
Trying to find Dr. Nash in the building! I actually had the frosting removed from some of the office windows on our floor so I could see him coming and going. 
What's something that we might not know about you?
I am a quilter. I make a lot of baby quilts for friends and family, but one of my favorite projects was making a quilt for my son using his Pitt t-shirts. 
 
---
Courtney Johnson, Administrative Assistant
What is your day-to-day work like in this role?
I assist Dr. Perez with her administrative needs, scheduling meetings, arranging the Nurse Practitioner Enhancement Series and Community Psychiatry Interest Group meeting. I also track physician training—CPR, CCM, and clearances—making sure requirements are met before expiration, and letting the physicians know about classes. I also arrange the physician new-hire orientation schedules. 
How long have you been in this role and what did you do before?
I've been in the OCA for three years. Before this, I worked in medical records at WPH and I have also worked for the UPMC Health Plan.
What's the biggest challenge in your job and what is your favorite part about it?
The biggest challenge is tracking down 250 physicians to complete their mandatory trainings before the due date. The COVID pandemic has been difficult because we don't see the physicians as often, so we're not able to troubleshoot issues in person. We troubleshoot a lot in OCA, when the doctors don't know what to do about an issue, they contact us. My favorite part is helping them in general. It's a good feeling to help.
Tell me something about your outside-of-work life.
I love shopping and music, and I have a 10-year-old daughter who I am assisting with an accessory business! 
 
---
Sabrina George (Telepsychiatry Project Coordinator)
Sabrina, you are the newest team member. How long have you been at WPH?
I've been with UPMC for five years, previously as a credentialing supervisor with UPMC Children's Community Pediatrics, and I have been in this role since February. I coordinate WPH telepsychiatrists in rural locations where it can be hard to find in-person care. 
What was it like to take on a new position during the Covid-19 pandemic, especially as telepsychiatry became integral to our ability to provide behavioral health care?
It was very busy, and I did a lot of learning on the fly! I had to understand quickly what we could do and how we could implement it. Those months were an excellent learning experience, and it helped that I knew about behavioral health care already.
Is there anything unexpected that happens in your work?
Yes, I have been in the industry for almost 25 years working with medical billing and consulting companies. In fact, WPH was a client in the early 2000s so I often come across behavioral health care providers who I have worked with in the past and it's always nice to reconnect.
What's something that we might not know about you?
My kids have all been involved with musicals at school. When my middle daughter was interested in stage work, an acquaintance directing the show asked me to help with the costumes. That turned into a more than eight-year commitment as a costume designer at our middle school, and a role as "Costume Mistress" at the high school.
Thanks for taking the time to let us get to know you, Sheena, Donna, Courtney, and Sabrina!