Priya Gopalan, MD Receives the 2022 Association for Academic Psychiatry Roberts Award for Mentorship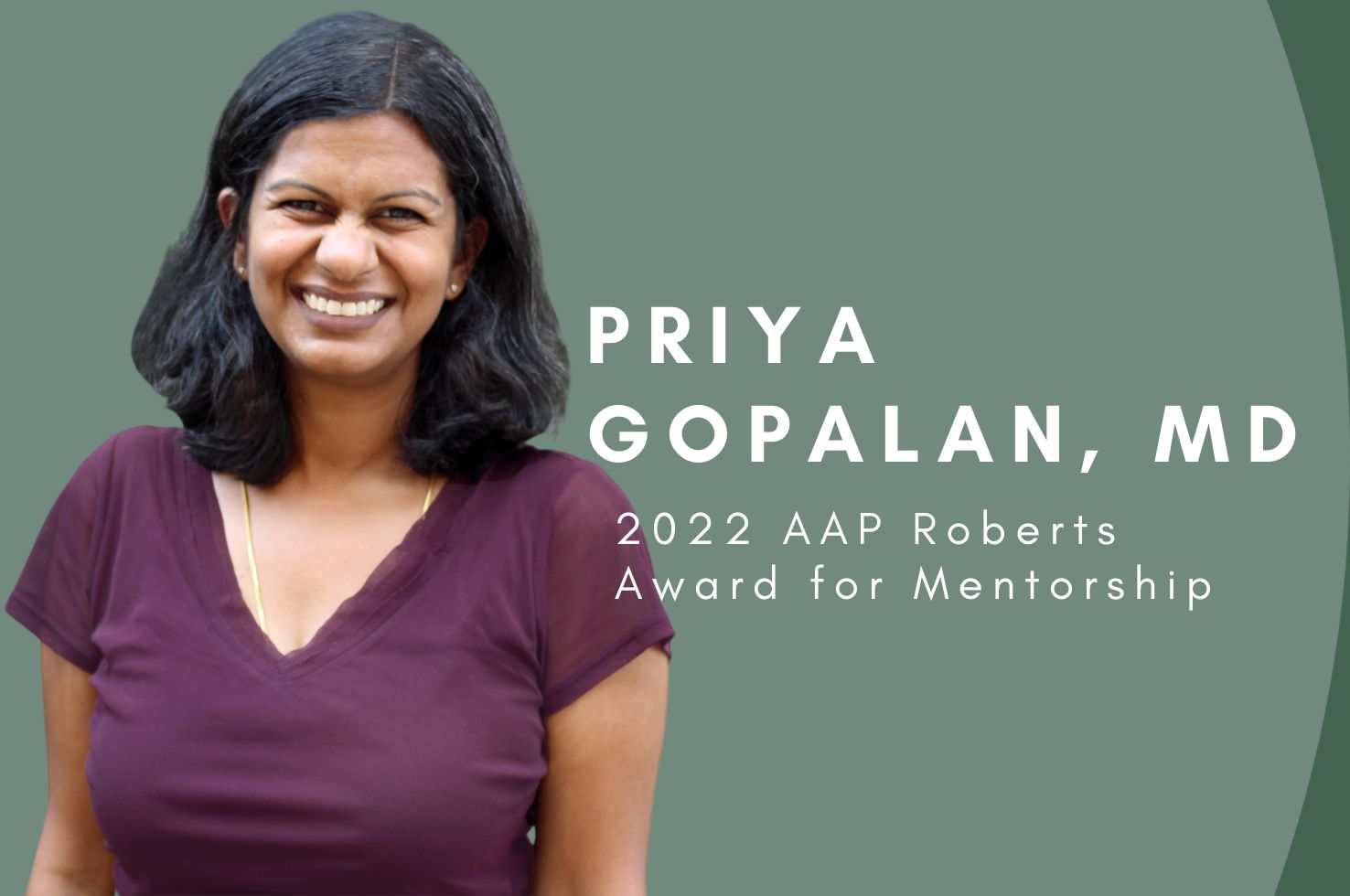 We are delighted to announce that Priya Gopalan, MD (Associate Professor of Psychiatry and Assistant Professor of Obstetrics and Gynecology), has received the 2022 Association for Academic Psychiatry (AAP) Roberts Award for Mentorship, which recognizes psychiatric educators who have supported medical students, residents, and early-career psychiatry faculty in their development as educators and who have, by their example, modeled academic careers in psychiatry and fostered others through mentorship.
Dr. Gopalan joined our faculty in 2011, having earned her MD from the University of Virginia, and completing her residency training in psychiatry at UPMC Western Psychiatric Hospital (WPH) in the Academic Administrator Clinician Educator (AACE) Track. Since 2014, Dr. Gopalan has served as faculty co-director of the AACE Track, developing curriculum and guiding residents who are interested in becoming leaders in medical education, clinical care and administration. She has also served as co-director of multiple resident training courses, and she has mentored numerous residents, with several mentees subsequently joining Pitt Psychiatry faculty.
She co-created the ACGME-accredited Consultation-Liaison (CL) in Psychiatry Fellowship, and is rotation director for the CL psychiatry rotation. Notably, Dr. Gopalan is a three-time WPH Resident Teaching Award recipient. Resident feedback from the CL rotation consistently praises her enthusiasm for instruction, thoroughness, high expectations, and consistent modeling of good care, noting that she "is dedicated to academic success and advancing our interests and careers," and that she is a "fantastic teacher and excellent role model. The most dedicated attending I've ever worked with. She pushes students to challenge themselves and is there to support them." 
In addition, Dr. Gopalan helped establish—and now co-directs—the Reproductive Psychiatry and Women's Mental Health Area of Concentration psychiatry resident training program, an enhancement provided for residents with a special interest in this area.
"Dr. Gopalan is an exemplary mentor in our Department. She has supervised and individually mentored numerous residents, fellows, and early-career faculty, with many expressing unequivocally that her guidance has been instrumental to their career advancement. She is exceptionally deserving of the AAP Roberts Award for Mentorship," said David Lewis, MD (Chair, Department of Psychiatry).
Please join us in congratulating Dr. Gopalan!