Honoring Pitt Psychiatry Faculty Society of Biological Psychiatry 2020 Awardees Even as COVID-19 Pandemic Forces Cancellation of Annual Meeting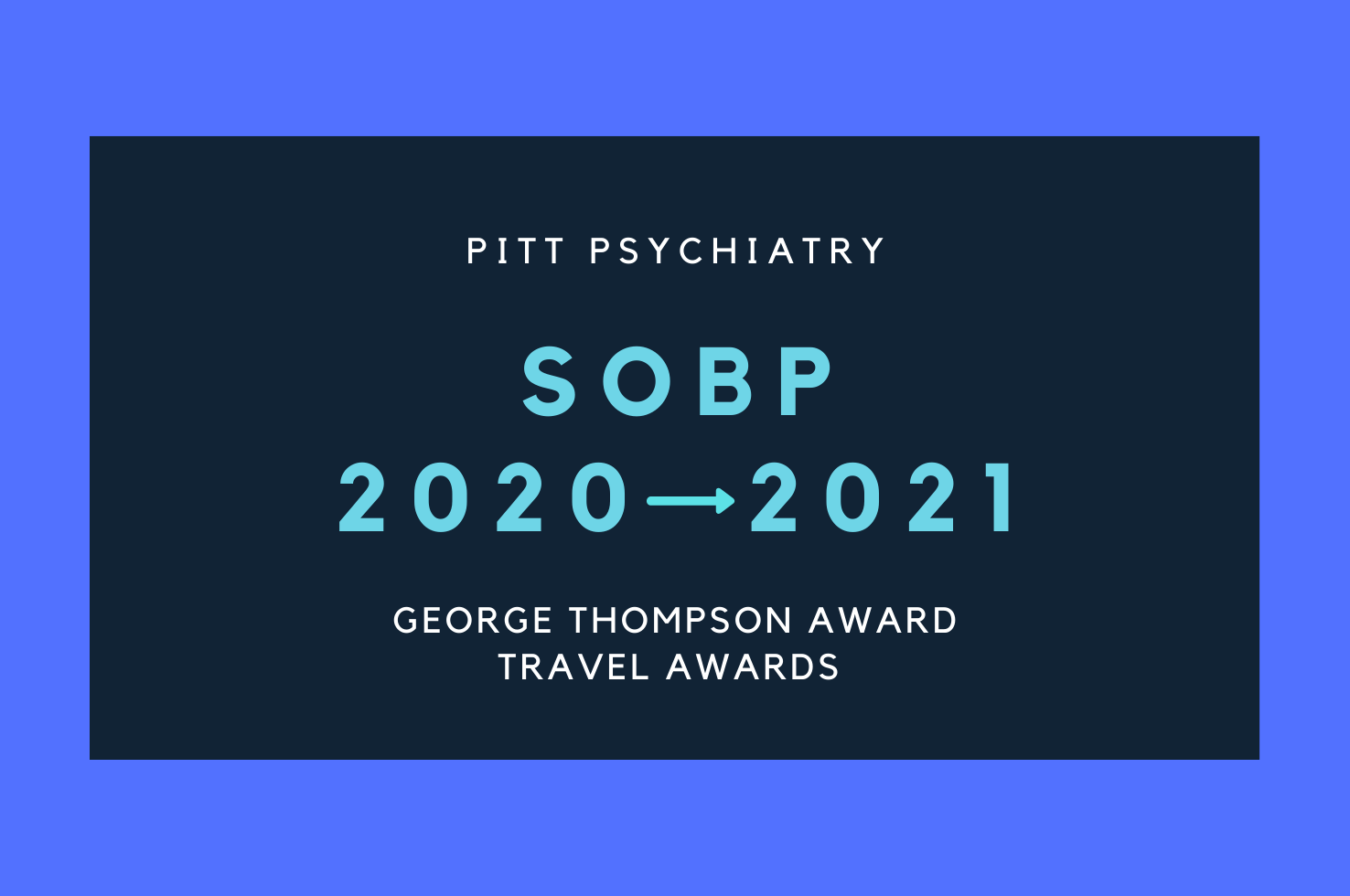 The annual Society of Biological Psychiatry (SOBP) meeting, originally scheduled for April 30–May 2, 2020, is among the numerous academic conferences to be canceled in 2020 due to the COVID-19 pandemic. Although the meeting did not occur, the Department of Psychiatry remains committed to celebrating the achievements of our faculty. We are delighted to announce this year's George Thompson Award honoree, as well as the Pitt Psychiatry recipients of 2020 SOBP Travel Awards, which recognize excellence in scholarly activity by early-career researchers. All will be recognized at the SOBP 2021 annual meeting.
George Thompson Award
We are thrilled to announce that Mary Phillips, MD, MD (Cantab) has been selected to receive the 2020 George Thompson Award, which honors SOBP members who have given outstanding service to promote the welfare of the organization. Dr. Philips is a former SOBP president, as well as the founding chair of the SOBP Women's Leadership Committee.
Travel Awards
Melanie Grubisha, MD, PhD
Dr. Grubisha, Assistant Professor of Psychiatry, is interested in the diagnosis, treatment and long-term management of severe mental illness. Her current research focuses on molecular mechanisms underlying impairments in dendritic morphogenesis in schizophrenia. Dr. Grubisha uses a combination of in vitro and tissue techniques, including dissociated cell culture, slide culture, and Golgi-Cox staining to do dendritic pathway components through genetic models as well as overexpression. 
Mary Woody, PhD
Dr. Woody, Assistant Professor of Psychiatry, brings a unique developmental perspective to the study of affective psychopathology. Her research focuses on the visuocortical dynamics of affect-biased attention in the development of adolescent depression. She uses steady-state visual evoked potentials to provide a temporally-sensitive biological index of attention to competing visual stimuli at the level of neuronal populations in the visual cortex. 
Caroline Oppenheimer, PhD
Dr. Oppenheimer is Assistant Professor of Psychiatry. Her research focuses on predicting suicide risk in sexual minority and non-minority youth and examining the associations among neural sensitivity to social rejection, peer rejection and suicidality. She studies the development of negative valence systems, with an emphasis on sensitivity to social rejection, and association with suicide risk during the transition into and across adolescence.