A Different Approach to Safety at UPMC Western Psychiatric Hospital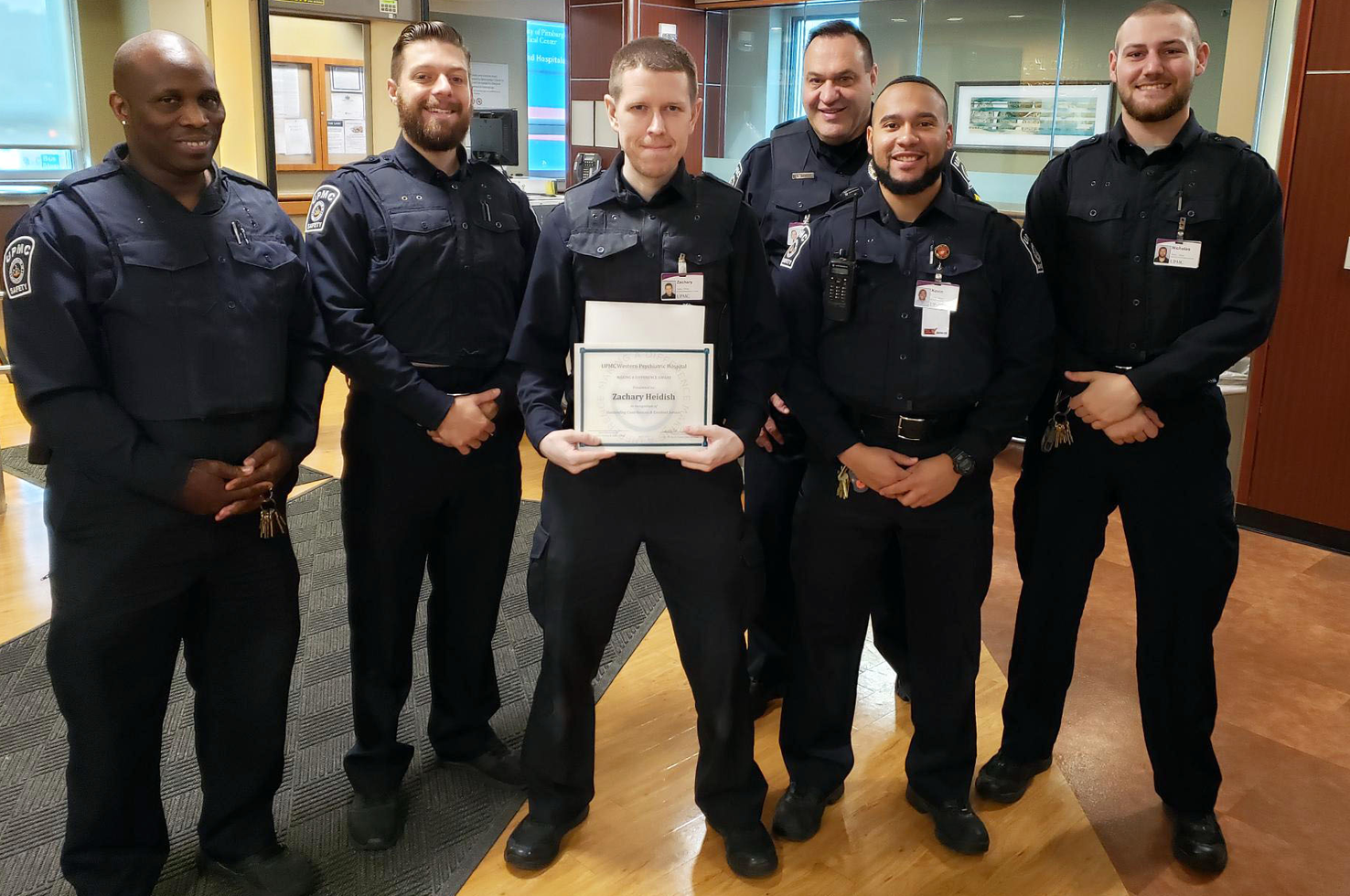 On a recent morning at UPMC Western Psychiatric Hospital (WPH), a staff member was greeted by a WPH safety officer. Following a quick exchange about elevator service, the officer said, "Hey, you have an awesome day!"
WPH safety officers are visible throughout the hospital, maintaining a regular presence on the inpatient units and responding to calls for assistance with challenging patient encounters. They are the first faces that visitors see upon entering WPH and play a critical role in creating a welcoming and safe atmosphere. 
Safety vs. Security
UPMC Western Psychiatric Hospital (WPH)'s approach to safety is different than at most other hospitals. At WPH, newly hired safety officers undergo intensive two-month training in therapeutic crisis intervention, which prioritizes de-escalation techniques, as well as Positive Approaches, a program that provides alternatives to restrictive interventions like physical restraint or seclusion. Camellia Herisko, DNP, MSN, RN, PMHCNS-BC, CRNP (VP of Operations and Patient Care Services), describes how working with a behavioral health population requires an alternative approach: "Many police and security guards are trained to physically control difficult situations. That style doesn't work at Western Psych. When our officers encounter an agitated psychiatric patient, they begin with an assessment of the situation, then attempt to start a conversation and spend the time required to help the patient become calm." Physical intervention occurs only when imminent risk is involved.
Unique Clinical Collaboration
WPH's approach to safety also includes regular collaboration between officers and clinicians. It is common for behavioral health care teams to incorporate safety officers' expertise when developing treatment plans for patients. Moreover, when responding to a call on an inpatient unit, officers try to meet first with the clinical team to develop an action plan.  This is called a staff time out. "We don't want our officers just jumping in there," says Jason Komorowski, Director of Public Safety at WPH. "This job requires a team approach and we are trained to deal with unique situations. We give our input and then everyone works together."
Enhanced Communication Skills
Integral to the creation of a calm environment is the strategic consideration of the safety officers' presence in WPH, and how it is perceived by patients and families. Dr. Herisko explains that sometimes, something as simple as an officer's presence can defuse a potential conflict. But most officers also proactively work to establish a safe and calm environment by building relationships with patients. "Psychiatric care is mostly about relationships," Dr. Herisko notes. "If our officers can build therapeutic relationships with patients, they're more effective in de-escalating difficult situations." 
While traditional police and security work entails standardized procedures, work with a behavioral health patient population requires an intuitive and responsive approach. It is especially important that security officers are highly attuned to body language and retain a strong sense of empathy, as the challenges faced by patients are often not outwardly evident, as they might be in a medical hospital. "Our officers are always aware that when people come in to WPH, they could be in crisis. We teach them to practice good observation skills regarding affect and body language," says Gerald Danhires (Manager, Police & Security). "They are also aware of their own body language, and the message conveyed by how they carry themselves."
An Award-Winning Team
In 2019, the WPH safety officer team received a residency training award, the WPH Exemplary Teaching Service Award for Special Services. Upon presenting the honor, the 2019 housestaff president Elyse Watson, MD, remarked: "Our facility simply would not be able to operate without these men and women. They have de-escalated some truly complex patient situations and they are willing to put themselves at risk to keep others safe."
Looking toward the future, Dr. Herisko and a council of UPMC hospital security directors are working to standardize the WPH safety model across UPMC, particularly regarding safety management in in behavioral health units embedded within medical hospitals. "Other sites are asking about our model," says Dr. Herisko.
Special thanks to Cami Herisko, Jason Komorowski, Gerald Danhires and Russel Steele for their contributions to this story.