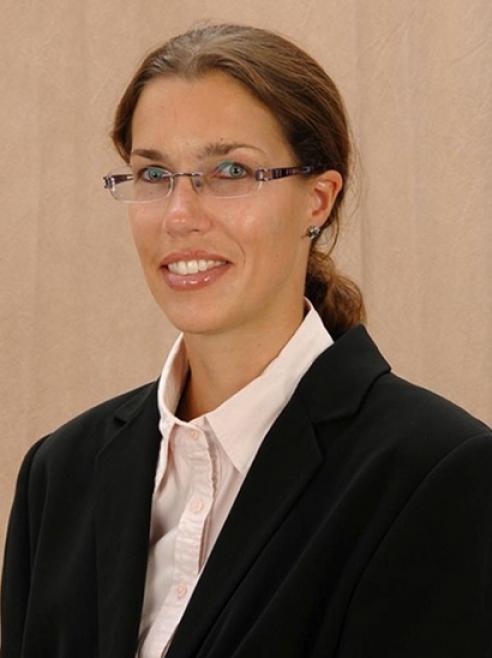 Thersilla Oberbarnscheidt, MD, PhD
Assistant Professor of Psychiatry
Contact Details
3811 O'Hara St.
Pittsburgh
PA
15213
Education & Training
MD
Christian-Albrechts-University Kiel
, School of Medicine
PhD
Neuroscience
, Christian-Albrechts-University Kiel
Psychiatry, Central Michigan University
Addiction Psychiatry, UPMC Western Psychiatric Hospital
Internal Medicine/Neprhology, University Hospital of Schleswig-Holstein, Kiel, Germany
Specialty Certifications
Board Certification
American Board of Psychiatry and Neurology (Addiction Psychiatry)
Professional Affiliations
Member, American Psychiatric Association
Member, American Academy for Addiction Psychiatry
Member, American Society of Addiction Medicine
Research Interests
Medicinal marijuana; Medicinal marijuana legalization; Opioid epidemic
Selected Research Publications & Products
Osuagwu F, Roy N, Khalid Z, Oberbarnscheidt T, Jafferany M. Prevalence and Clinical of Body Dysmorphic Disorder in Adolescent Inpatient Psychiatric Patients-a pilot study Nordic Journal Of Psychiatry. April 2019. DOI: 10.1080/08039488.2019.16129.
Gobel H, Heinze A, Niederberger U, Witt (Oberbarnscheidt) T & Zumbroich Cephalagia V. Efficacy of phenazone in the treatment of acute migraine attacks: Double-blind, placebo-controlled, randomized study, Cephalalgia. 2004 Oct; 24(10): 888-893. DOI: 10.1111/j.1468-2982.2004.00764.x
Clinical Interests
Substance use disorders; Pain management; opioid induced hyperalgesia; Pharmacology
Selected Clinical Publications & Products
Oberbarnscheidt T, Miller NS. The Impact of Cannabidiol on Psychiatric and Medical Conditions.J Clin Med Res.2020 Jul;12(7):393-403. doi: 10.14740/jocmr4159. Epub 2020 Jun 25.
Miller NS, Ipeku R, Oberbarnscheidt T, A Review of Cases of Marijuana and Violence, Int J Environ Res Public Health. 2020 Feb 29;17(5). pii: E1578. doi: 10.3390/ijerph17051578.
Oberbarnscheidt T, Miller NS, Henry T. Abilify induced Gambling disorder-A case review, Journal of pharmacology and Clinical Research. Volume 4, Issue 4. December 2017. DOI: 10.19080/JPCR.2017.04.555641.
Education Interests
Medical student/resident/fellow education; Research advising; Medical school curriculum development
Selected Education Publications & Products
Oberbarnscheidt T, Miller NS. Kratom-A lethal drug on the rise , Journal of Addiction and Prevention, March 2019, volume 7, issue 1.
Oberbarnscheidt T, Miller NS. The Effect of Marijuana on Methadone maintenance treatment, ARC Journal of Addiction, Volume 3, Issue 2, 2018, PP 5-12 www.arcjournals.org
Oberbarnscheidt T, Miller NS. Pharmacology of Marijuana, J Addict Res Ther. May 2017, S11:012 DOI: 10.4172/2155-6105.S11-012
Oberbarnscheidt T, Miller NS. Marijuanas role in the adolescent population, J Addict Res Ther, May 2017, S11:016, DOI: 10.4172/2155-6105.S11-016.
Oberbarnscheidt T, Miller NS. Marijuana is it a Medicine?, J Addict Res Ther. May 2017, S11:011DOI: 10.4172/2155-6105.S11-011