The Department of Psychiatry Welcomes New Clinician-Educator Faculty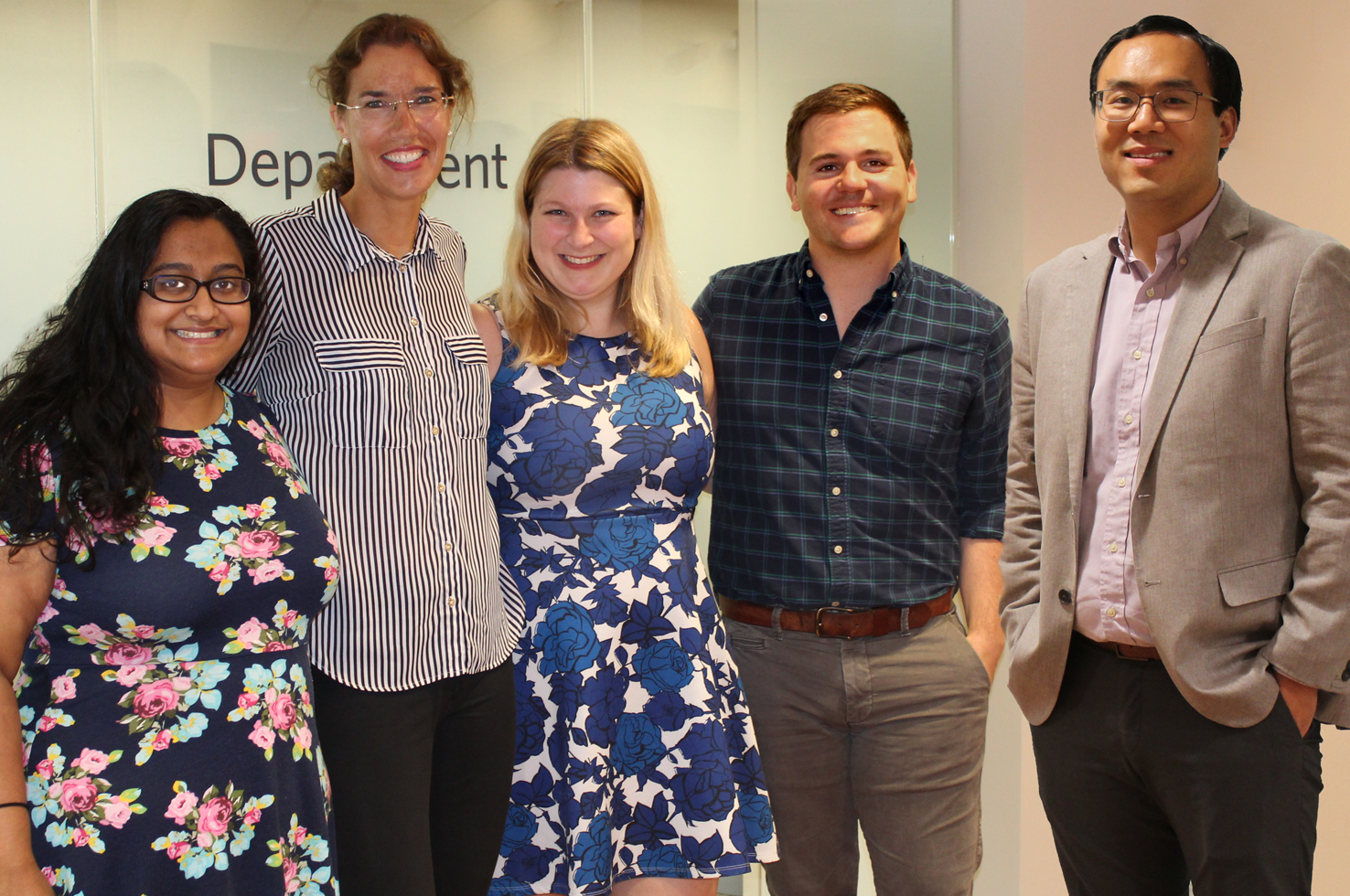 Pictured above: Drs. Priyanka Amin, Thersilla Oberbarnscheidt, Shelly Kucherer, Dan Bender and Ran Li.

The Department of Psychiatry extends a warm welcome to the physicians below, who join our clinician-educator faculty at the rank of assistant professor.
Priyanka Amin, MD
Dr. Amin earned her MD from the University of Pittsburgh School of Medicine. Following her graduation from medical school, she joined Western Psychiatric Hospital (WPH) as a resident in adult psychiatry (Women's Mental Health Area of Concentration) in the Academic Administrator Clinician Educator track. She was Chief Resident for Well-Being from 2018–2019. She was selected by Pitt School of Medicine rising fourth-year medical students to receive the Gold Foundation Humanism and Excellence in Teaching "Little Apple Award" in 2017. Dr. Amin is a member of the WPH UPMC Critical Incident Stress Management (CISM) As Soon As Possible (ASAP) Staff Support Team, which helps clinical healthcare providers manage work-related stress. Dr. Amin's areas of clinical service are in WPH's Diagnostic Evaluation Center and the Behavioral Health Intensive Care Unit.
Dan Bender, DO
Dr. Bender received his DO from Lake Erie College of Osteopathic Medicine at Seton Hill University, and was a resident at Drexel University College of Medicine. He then completed the adult Psychodynamic Psychotherapy Program at the Psychoanalytic Center of Philadelphia, as well as a child and adolescent psychiatry fellowship at the Drexel University College of Medicine, where he was Chief Fellow. Last year, Dr. Bender was named an American Academy of Child and Adolescent Psychiatry Fellow Advocacy Ambassador. His areas of clinical service at WPH are adult inpatient services and child and adolescent psychiatry. 
Shelly Kucherer, MD
After earning her MD from New York Medical College, Dr. Kucherer joined WPH as a resident in general psychiatry in the Academic Administrator Clinician Educator track. From 2017–2018 she was Chief Resident of Inpatient Services. Following her residency, Dr. Kucherer joined the Consultation-Liaison Psychiatry Fellowship program. Dr. Kucherer is a recipient of a Trainee Travel Award from the Academy of Consultation-Liaison Psychiatry, as well as a 2018 WPH Graduating Resident Humanism Award. At WPH, Dr. Kucherer will divide her time between consultation-liaison psychiatry and the Merck Adult Outpatient Clinic. 
Ran Li, MD
Dr. Li received his MD from Johns Hopkins University School of Medicine. He completed a psychiatry residency at Massachusetts General Hospital and McLean Hospital, and was also an assistant editor at the Harvard Review of Psychiatry. At the Boston Psychoanalytic Society and Institute, Dr. Li was a fellow in psychoanalytic psychotherapy. Earlier this year, he received an American Group Psychotherapy Connect Scholarship from the Group Foundation for Advancing Mental Health, as well as an MGH/McLean-BPSI Psychoanalytic Travel Award. Dr. Li's clinical role is with adult outpatient services at WPH.
Thersilla Oberbarnscheidt, MD, PhD
Dr. Oberbarnscheidt earned her medical degree, and a PhD in neuroscience, from Christian-Albrechts-University in Kiel, Germany. Upon receiving her MD, she joined the University Hospital of the Christian-Albrechts-University to complete an internal medicine residency in the Department of Nephrology and Hypertension. She later undertook a psychiatry residency at Central Michigan University, followed by a fellowship in addiction psychiatry at WPH. Dr. Oberbarnscheidt is a recipient of an American Academy of Addiction Psychiatry travel award, as well as a WPH Haskett Psychiatry Excellence Award. Her clinical service is in addiction medicine services at WPH.