Pitt Psychiatry Joins "White Coats Against Racism"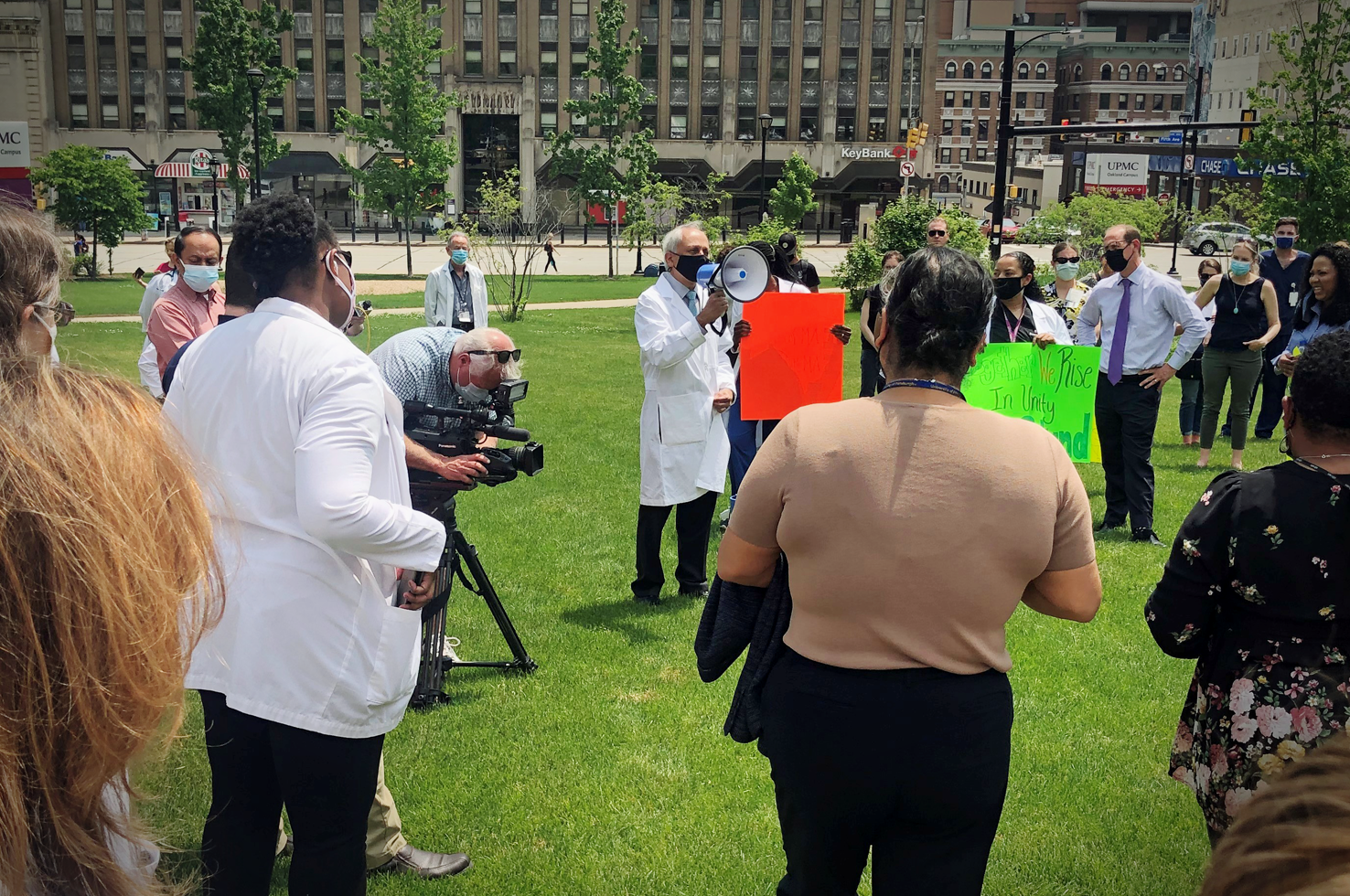 On May 25, 2021, physicians, staff, nurses, and medical students across the UPMC network knelt for nine minutes and 29 seconds to honor the life of George Floyd, who was killed one year ago. The White Coats Against Racism Kneel is also an opportunity for health care workers to gather in protest against the racism experienced by Black, Brown, and Asian American/Pacific Islander (AAPI) members of our community. 
Before the event, Naudia Jonassaint, MD, MHS (Assistant Professor & Vice Chair for Diversity and Inclusion, Department of Medicine) and Rickquel Tripp, MD, MPH, LCDR, USNR (Clinical Assistant Professor of Emergency Medicine & Vice Chair of Diversity, Equity, & Inclusion of UPMC Graduate Medical Education) addressed attendees, followed by Donald Yealy, MD, FACEP (Professor and Chair of Emergency Medicine), and Anantha Shekhar, MD, PhD (Senior Vice Chancellor for the Health Sciences & John and Gertrude Petersen Dean, School of Medicine). 
Participants including members of the Department of Psychiatry and UPMC Western Psychiatric Hospital gathered on the lawn of UPMC Presbyterian Hospital in Pittsburgh's Oakland neighborhood. 
"This is a representation of the small steps towards the larger systemic changes that we are hoping to achieve combating centuries of oppression, cruelty and marginalization," said Tushita Mayanil, MBBS (MD) (Assistant Professor of Psychiatry). "As a child psychiatrist, I owe it to the children and families I work with to show them that there is hope and light in the making. We all owe this to our next generation."