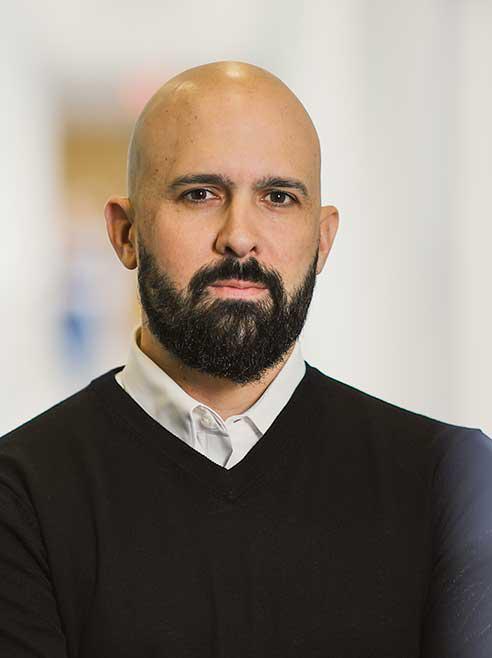 Matthew L MacDonald, PhD
Associate Professor of Psychiatry
Contact Details
200 Lorthrop Street
Pittsburgh
PA
15213
Education & Training
PhD
Pharmacology
, University of Pennsylvania, School of Medicine
Psychiatry, University of Pittsburgh School of Medicine
Professional Affiliations
Member, Society for Neuroscience
Member, American Society for Mass Spectrometry
Selected Honors & Awards
NARSAD Young Investigator Award, Brain & Behavior Research Foundation
Research Interests
Proteomics and protein networks; Schizophrenia relevant spine biology; Protein network alterations in schizophrenia
Selected Research Publications & Products
MacDonald ML, Garver M, Newman J, Sun Z, Kannarkat J, Salisbury R, Glausier J, Ding Y, Lewis DA, Yates N, Sweet RA. Synaptic Proteome Alterations in the Primary Auditory Cortex of Schizophrenia. JAMA Psychiatry. 2019 Oct 23:1-10. PMID: 31642882.
MacDonald ML, Alhassa J, Newman JT, Richard M, Gu H, Kelly RM, Sampson AR, Fish KN, Penzes P, Wills ZP, Lewis DA, Sweet RA. Selective Loss of Smaller Spines in Schizophrenia. American Journal of Psychiatry, In Press.
MacDonald ML, Ding Y, Newman J, Hemby S, Penzes P, Lewis DA, Yates NA, Sweet RA. Altered glutamate protein co-expression network topology linked to spine loss in the auditory cortex of schizophrenia. Biol Psychiatry. 2015;77:959-968.
MacDonald ML, Ciccimaro E, Prakash A, Banerjee A, Seeholzer SH, Blair IA, Hahn CG. Biochemical Fractionation and Stable Isotope Dilution Liquid Chromatography-mass Spectrometry for Targeted and Microdomain-specific Protein Quantification in Human Postmortem Brain Tissue. Mol Cell Proteomics. 2012 Dec;11(12):1670-81.
MacDonald ML, Eaton M, Dudman T, Konradi K. Antipsychotic drugs elevate mRNA levels of presynaptic proteins in the frontal cortex of the rat. Biological Psychiatry. 1;57(9):1041-51, 2005.
Education Interests
Research mentoring; Graduate student education