Research in First Episode and Clinical High Risk Psychosis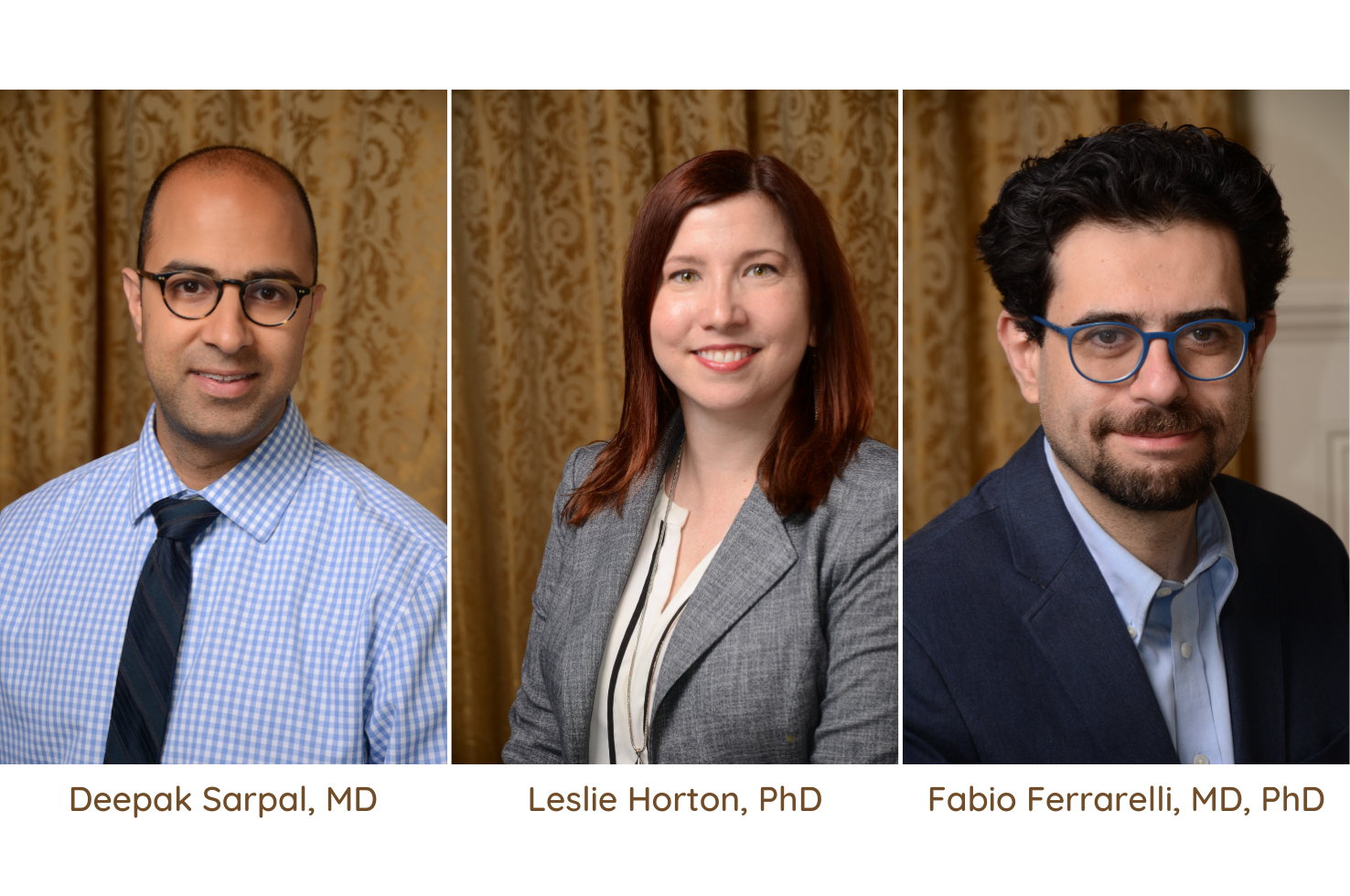 EPINET: First-Episode Psychosis Research
The UPMC Western Psychiatric Hospital (WPH) Services for the Treatment of Early Psychosis (STEP) clinic is an outpatient program for the evaluation, treatment, and rehabilitation of people who may be experiencing early signs of a psychotic illness. STEP is one of 20 clinics across Maryland and Pennsylvania that will be included in an Early Psychosis Intervention Network (EPINET) hub. EPINET is a National Institute of Mental Health (NIMH)-funded initiative for the establishment of a national network of coordinated specialty care clinics for first episode psychosis treatment and data gathering. Deepak Sarpal, MD (Assistant Professor of Psychiatry), is EPINET's Pittsburgh lead site investigator. Roy Chengappa, MD (Professor of Psychiatry) will serve as a co-investigator.
Coordinated specialty care, the current standard of care for first episode psychosis, provides multi-disciplinary services, interdisciplinary communication, and a team-based approach to an individual's recovery. The model can include individual and group therapy, case management, pharmacy support, and family psychoeducation. "This is the newer model," said Dr. Sarpal. "Historically, a patient would receive medication and some level of services, but they wouldn't be delivered in a coordinated and recovery-oriented fashion." Coordinated specialty care has long been practiced at STEP, one of the oldest and largest early psychosis treatment clinics, but state funding from the Substance Abuse and Mental Health Services Administration (SAMHSA) enabled full implementation the model at STEP more than four years ago. 
The University of Pittsburgh, the University of Pennsylvania, Johns Hopkins University, and the University of Maryland have joined as an EPINET scientific hub (led by the University of Maryland) that will 1) collect data from a large sample of individuals being treated with coordinated specialty care, including many STEP patients, 2) develop a learning health system to optimize treatment delivery across clinics, and 3) perform a practice-based research project. The hub's specific focus will be around cannabis use. "Cannabis use is frequently seen in this population and often complicates treatment planning," said Dr. Sarpal. "We don't know yet how best to incorporate treatment of cannabis use into our coordinated specialty care approach for first episode psychosis, so our aim is to characterize cannabis use and pilot an intervention that might maximize treatment outcomes."
ProNET: Helping Young People at Risk for Schizophrenia
The University of Pittsburgh is now a member of the National Institute of Mental Health-funded Psychosis Risk Outcomes Network (ProNET), an international consortium of 27 institutions investigating the cause and effect of schizophrenia in some high-risk adolescents and young adults. ProNET will focus on characterizing phenotypes associated with clinical high risk or prodrome state of schizophrenia in young people, as the development of treatments has been limited by the variation among patients with schizophrenia both at initial presentation and over time. 
The investigators will recruit 1,040 patients with clinical high risk for schizophrenia and follow them with clinical and biomarker assessments—including brain structure and function, psychopathology and cognition, genetics, behavior, and natural language and speech—over two years. In addition, 260 unaffected controls will also be assessed at baseline. ProNET will test whether data-driven variation in these biomarkers can be used to predict individual clinical trajectories and select individual patients most likely to benefit from specific treatments.
Leslie Horton, PhD (Assistant Professor of Psychiatry) leads the Pittsburgh research team. Dr. Horton is a clinical investigator in the areas of schizophrenia and psychotic disorders, with a research focus on psychopathology risk and social dysfunction in adolescents at risk for schizophrenia. She is also director of the HOPE TEAM, a clinic serving youth at-risk for psychosis. 
"As much as we have learned about the benefits of treating youth at-risk for psychosis, many gaps in our knowledge remain," Dr. Horton said. "This project will be a leap forward in clarifying the most important risk factors for psychosis and offering new insights into effective treatments."
Dr. Horton's co-investigators include Dean Salisbury, PhD (Professor of Psychiatry), who will lead EEG data acquisition, and Maria Jalbrzikowski, PhD (Assistant Professor of Psychiatry), who will lead neuroimaging acquisition. Fabio Ferrarelli, MD, PhD (Associate Professor of Psychiatry), serves as co-investigator and study psychiatrist.
Sleep Spindles and Clinical High Risk for Psychosis
Dr. Ferrarelli is interested in the relationship between sleep electrophysiological signatures and psychotic disorders, including schizophrenia.
Funding from an R01 grant enables him to investigate how detection of neurobiological abnormalities can help scientists understand the emergence of psychotic disorders in some individuals. In this NIMH-funded project, Dr. Ferrarelli's goal is to characterize the role of sleep spindles in moderating cognitive, social, and clinical functioning trajectories, including transition to psychosis, among young people with clinical high risk for psychosis. Dr. Ferrarelli uses techniques such as sleep electroencephalogram (EEG), functional magnetic resonance imaging (fMRI), and magnetic resonance spectroscopy imaging (MRSI) to examine irregularities in sleep spindle oscillations—irregularities that are frequently observed in individuals with schizophrenia. "The thalamus, where spindles are generated, is one target to see where alteration in function might lead," said Dr. Ferrarelli. "And we also look at the prefrontal cortex, which is activated in schizophrenia, and might show abnormalities that can be detected in early psychosis." In addition, Dr. Ferrarelli and his team aim to identify the neuronal and molecular underpinnings of sleep spindle defects using sleep EEG, fMRI, and MRSI.
In a second NIMH study, Dr. Ferrarelli uses transcranial magnetic stimulation (TMS) of the dorsolateral prefrontal cortex to see if there is a deficit in oscillatory activity in people who have already been diagnosed with a psychotic disorder. "We have the ability to make a difference with treatment," he says, "but the more time passes, the less we know about what how the brain has been affected by the illness and by medication. The earlier we can perceive irregularities, the greater our ability to make a difference"