Martin Lubetsky, MD Promoted
School of Medicine Promotes Martin J. Lubetsky, MD
to Professor of Psychiatry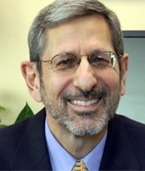 The Department of Psychiatry is pleased to announce the promotion of Martin J. Lubetsky, MD, to the rank of Professor of Psychiatry at the University of Pittsburgh School of Medicine.
Dr. Lubetsky is a graduate of the Wayne State University School of Medicine and completed his residency training at Sinai Hospital in Detroit, Michigan.  He relocated to Pittsburgh in 1984 to accept an appointment to the Child Psychiatry Fellowship program at Western Psychiatric Institute and Clinic at UPMC (WPIC) and was recruited to the Department of Psychiatry faculty in 1986.  Throughout his career at the University of Pittsburgh and WPIC, Dr. Lubetsky has served as a role model for medical students, residents and junior faculty interested in pursuing careers that combine their academic and clinical interests. 
A dedicated clinician and administrator, Dr. Lubetsky has served in multiple roles in WPIC's John Merck programs including Medical Director of the Merck Multiple Disabilities Inpatient Unit and Director of the Merck Program for Autism and Developmental Disabilities across the Lifespan.  He currently is the Chief of Child and Adolescent Psychiatry and the Center for Autism and Developmental Disorders Services at WPIC and Chief of the Pediatric Behavioral Health/Behavioral Science Division at Children's Hospital of Pittsburgh of UPMC.  In 2012, he and his colleagues at WPIC and Children's Hospital were recognized for their innovative work to integrate behavioral health with the pediatric medical home through awards from the Jewish Healthcare Foundation and the Hospital Association of Pennsylvania.
Dr. Lubetsky has also collaborated with colleagues at the University of Pittsburgh and other academic institutions on a series of research projects on topics such as psychiatric disorders in children and adolescents with developmental disabilities, psychopharmacology in autism, and interdisciplinary approaches to working with families of children with developmental disabilities.  He has written or co-authored numerous peer-reviewed articles that have appeared in the Journal of Autism and Developmental Disorders, the Journal of the American Academy of Child and Adolescent Psychiatry, and other scientific publications, as well as proceedings from national conferences and symposia.  Dr. Lubetsky is also the coauthor and coeditor of a book on Autism Spectrum Disorder from Oxford University Press, Inc. as well as numerous book chapters.
In addition to his hectic clinical schedule and his research activities, Dr. Lubetsky is a gifted teacher and gives generously of his time locally and nationally as a member of committees, councils and task forces.  He is actively involved in the mentorship and supervision of staff, students, residents, and junior faculty, and has lectured extensively on a variety of topics at the University and at meetings and conferences in Pittsburgh and beyond.  Dr. Lubetsky is a member of numerous committees at the University, WPIC, and in the community, and also currently serves as a member of American Academy of Child and Adolescent Psychiatry's Autism, Intellectual Disability and Developmental Disabilities Committee.
Congratulations to Dr. Lubetsky on his promotion and we look forward to his ongoing contributions to the field!