---
Program Overview
Our psychology internship features rotations in both inpatient and outpatient settings; individual and group supervision in adult and child assessment and intervention; clinical and didactic seminars; and an opportunity to pursue clinical research activities.
The primary goals of the program are to:
Develop and consolidate clinical skills in psychiatric assessment, conceptualization, and evidence-based psychological interventions
Provide broad clinical experience within multidisciplinary treatment and research teams located within a university-based medical center 
Prioritize multicultural training through a cultural humility framework, with an emphasis on increasing awareness, knowledge, and skills that will improve clinical care and practice and facilitate the conduct of impactful research
Consolidate and enhance skills in clinical psychological science and supplement the clinical experience with adequate time and resources for empirical exploration of a specialty area
Our mission is to reduce the negative impact of psychiatric illness through training the next generation of mental health care providers and clinical scientists. We identify the clinical internship year as an important capstone experience that launches our trainees towards careers where they successfully apply empirically supported treatments and/or conduct innovative research that advances the field of clinical science.
We strongly believe that building a training environment that values diversity and is committed to improving representation in psychological science is crucial for enhancing clinical effectiveness and stimulating innovations in clinical research.  Consistent with this, our program seeks to train interns in cultural humility and multicultural clinical competencies, and is focused on increasing the participation of underrepresented populations in clinical medicine, biomedical research, teaching, and service. 
We are proud of the current and prior WPH clinical interns who recently had an article accepted at the Journal of Clinical Child and Adolescent Psychology (JCCAP) that is focused on developing a roadmap towards dismantling institutionalized racism and inequity in clinical science. This collaborative effort across multiple institutions highlights the need for structural changes and commitment at all levels to affect needed change.
​
---
Accreditation
The program is accredited by the American Psychological Association (APA) and is a member of the Academy of Psychological Clinical Science. Information about accreditation can be obtained from the APA Commission on Accreditation and the Office of Program Consultation and Accreditation.
APA Office of Program Consultation and Accreditation:
750 First St, NE
Washington, DC 20002-4242
Email: apaaccred@apa.org
Phone: (202) 336-5979
TDD/TTY: (202) 336-6123
---
Internship Admissions, Support, and Initial Placement Data
As of 2017, the following standardized tables of admissions, support and initial placement data are required for all APA-accredited internship program websites. The UPMC Western Psychiatric Hospital's internship program tables are updated annually on July 31st. 
| Program Disclosures |   |
| --- | --- |
| Does the program or institution require students, trainees, and/or staff (faculty) to comply with specific policies or practices related to the institution's affiliation or purpose? Such policies or practices may include, but are not limited to, admissions, hiring, retention policies, and/or requirements for completion that express mission and values. |         No |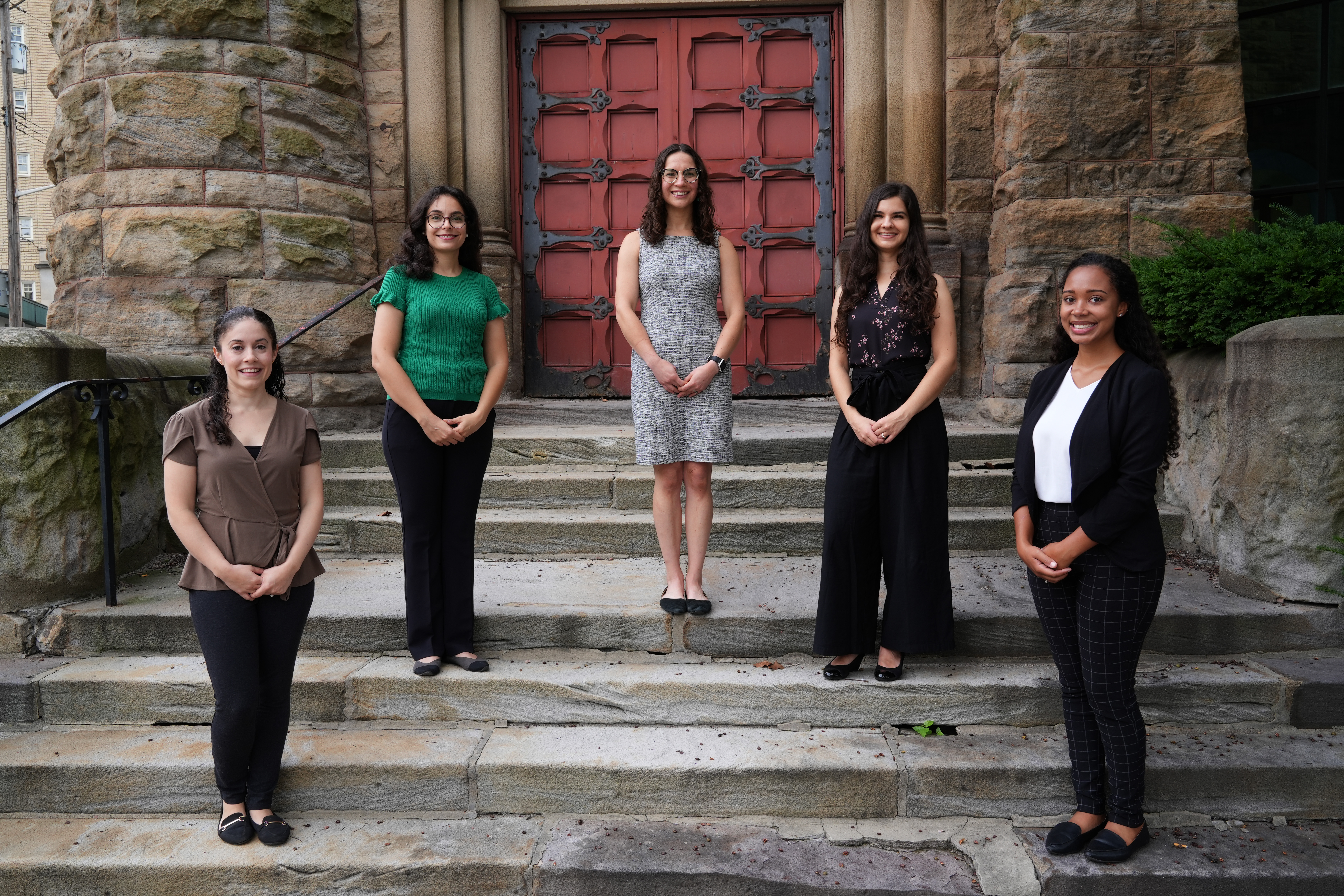 Internship Program Admissions
Our internship program adheres to a clinical science model of training and emphasizes the integration of research, clinical training, and professional development. An important goal in assessing fit is to identify and select interns whose ambitions focus on careers in such academic settings. Thus, in addition to the standardized APPIC application and letters of reference, we pay close attention to the candidate's interest in, and aptitude for, clinical research.
Typically, applicants who fit well at our site will have exceeded the minimum requirements of a master's thesis and doctoral dissertation, as evidenced by written and verbal scholarly communication skills, such as publication of peer-reviewed papers and/or presentations at national and regional professional meetings. Direct clinical experience is also important. Our academic medical center setting is unique, in part, due to the breadth of clinical training and degree of involvement with more severely ill patients. It is therefore essential that candidates have considerable supervised clinical experience and interest in hospital-based care. We also look for a history of initial training in evidence-based treatments such as cognitive behavior therapy or other modalities.

Our selection procedure involves an initial screening and rating of written applications by the Training Directors, members of the Training Committee, and affiliated faculty as appropriate. We strive to obtain three faculty reviews for each application, and we ask raters to provide: 1) a numeric (1-9) rating scale score; 2) feedback as to the specific strengths and weaknesses of the applicant, and; 3) whether the rater feels the applicant warrants an invitation for an in-person interview. A select group of approximately 24 interns is then invited to attend one of our two interview days in January. Through the interview process, applicants are further rated based on face-to-face meetings. After all interviews are completed, a final rank ordering of candidates is issued for match day in February.
Minimum Requirements for Application

Does the program require that applicants have received a minimum number of hours of the following at the time of application. If yes, indicate how many:

Total Direct Contact Intervention Hours

No

Total Direct Contact Assessment Hours

No
Other Minimum Criteria
Describe any other required minimum criteria used to screen applicants:
All applicants must come from an APA- or CPA-accredited PhD program in clinical psychology. We do not accept applicants from PsyD programs.
Financial and Other Benefits Support for Upcoming Training Year *

Annual Stipend/Salary for Full-Time Interns:

$35,000

Annual Stipend/Salary for Half-Time Interns:

NA

Program provides access to medical insurance for intern?

Yes

If access to medical insurance is provided:

Yes

Trainee contribution to cost required?

No

Coverage of family members available?

Yes

Coverage of legally married partner available?

Yes

Coverage of domestic partner available?

Yes **

Hours of Annual Paid Personal time off (PTO and/or vacation):

10 days

Hours of Annual Paid Sick leave:

12 days

In the event of medical conditions and/or family needs that require extended leave, does the program allow reasonable unpaid leave to interns/residents in excess of personal time off and sick leave?

Yes

Other Benefits:

 

$1,000 for professional development

6 professional days

Dental insurance covering intern/dependents as for medical insurance

Vision insurance covering intern/dependents as for medical insurance
*   Note. Programs are not required by the Commission on Accreditation to provide all benefits listed in this table
** Restrictions apply
Initial Post-Internship Positions: 

(Provide an Aggregated Tally for the Preceding 3 Cohorts)

Total# of interns who were in the 3 cohorts 2018-2021:

15

 

Total# of interns who did not seek employment because they returned to their doctoral program/are completing doctoral program:

0

 

 

 

*PD

**EP

Academic Teaching

9

6

Community Mental Health Center

NA

NA

Consortium

NA

NA

University Counseling Center

NA

NA

Hospital/Medical Center

NA

NA

Veterans Affairs Health Care System

NA

NA

Psychiatric Facility

NA

NA

Correctional Facility

NA

NA

Health Maintenance Organization

NA

NA

School District/System

NA

NA

Independent practice Setting

NA

NA

Other

NA

NA
* PD: Post-doctoral residency position
** EP: Employee position    
​