Colleagues Celebrate Dr. Loren Roth's Career and Accomplishments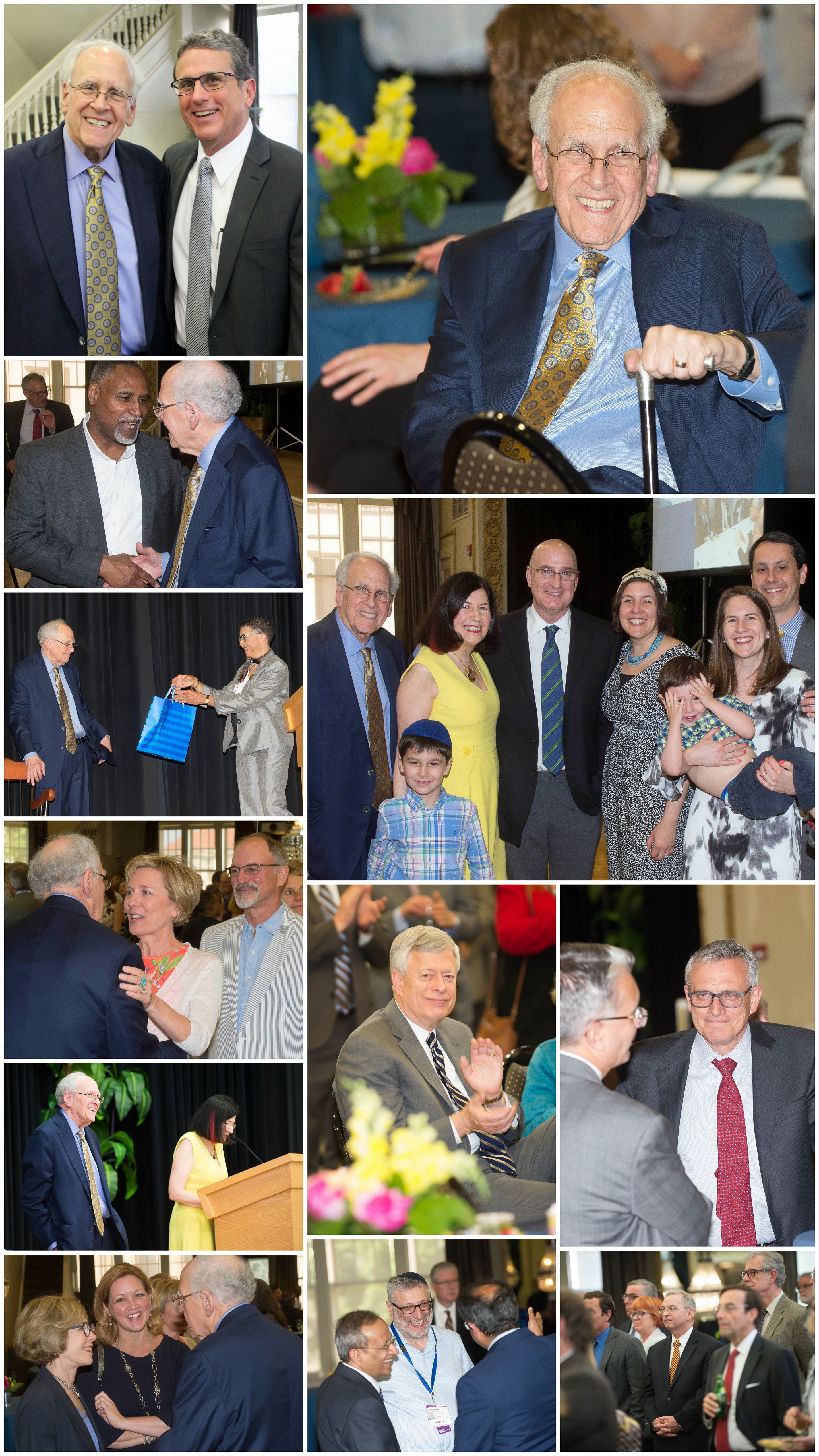 Following 44 years of distinguished service to the Department of Psychiatry and the University of Pittsburgh School of Medicine, Loren Roth, MD, MPH was recognized and awarded emeritus status at a special reception following the Department's Annual Research Day held June 7. Dr. Roth is Associate Senior Vice Chancellor for Clinic Policy and Planning, Health Sciences, University of Pittsburgh; Emeritus Distinguished Service Professor of Psychiatry, Health Policy and Management, and Clinical and Translational Science; and Senior Advisor on Quality, UPMC Health Plan.
At the reception, Department Chair David Lewis, MD spoke on behalf of Arthur Levine, MD, Senior Vice Chancellor for the Health Sciences and John and Gertrude Petersen Dean of the University of Pittsburgh School of Medicine, who was unable to attend the event. Dr. Levine conveyed numerous accolades for Dr. Roth, noting "I can assure you that if I adequately described all of his accomplishments, you'd be here all night." The two have remained close friends for decades, and Dr. Levine noted that he will miss Dr. Roth's daily presence and regular counsel. "Loren acts as a caring physician first and a true leader in interprofessional education, who does not waver from the ultimate goal of making the system better for the patient," said Dr. Levine. "He actually relishes immersing himself in the web of health professionals and community resources that we all rely on to maintain good health." He also mentioned some of Dr. Roth's numerous career accomplishments:
A leading expert in the field of law and psychiatry, Dr. Roth has conducted seminal research and written extensively on the subjects of informed consent, patient dangerousness, and competency, confidentiality, and ethics in research. His scholarly work has led to a number of seminal contributions on patient confidentiality and ethics in research, and he participated in the submission of numerous briefs to United States Appellate Courts and to the Supreme Court. 
Dr. Roth has played an instrumental role in developing the partnership with the University of Pittsburgh and UPMC. His rare ability to understand the dynamics of complex hospital/health care systems allowed him to play a significant role in the development of UPMC during a period of rapid change in health care economics, insurance, and care delivery beginning in 1993 with the advent of managed care, eventually becoming Sr. Vice President for Medical Services and Chief Medical Officer of UPMC.
The U.S. State Department and the American Psychiatric Association chose Dr. Roth to be the sole psychiatrist participating in the first Human Rights discussion between the United States and the Soviet Union in 1988. Subsequently, he served as the psychiatric leader of a 26-person delegation to the Soviet Union that examined the status of 27 individuals deemed by the West to be potential victims of psychiatric abuse and believed to be political dissidents falsely hospitalized in psychiatric prisons despite not being mentally ill. 
Throughout his prestigious career, Dr. Roth has held leadership positions within the University of Pittsburgh and UPMC and has directed numerous initiatives aimed at enhancing communication between physicians and patients and improving patient safety and the quality of care. He has also had a profound influence on medical student education and the training of residents, incorporating this work into medical education curricula and clinical training.
At the close of the ceremony, Dr. Lewis presented the esteemed Pitt captain's chair to Dr. Roth for a well-deserved "bit of rest." And given his track record, it likely will be just a bit, as he will continue to serve the Department by mentoring, hosting the behavioral health podcast, and working with the current directors of the Rural Public Psychiatry and Center for Public Service Psychiatry fellowships.