Carla Mazefsky, PhD, & Sarah Stahl, PhD, Honored for Medical Student Research Mentorship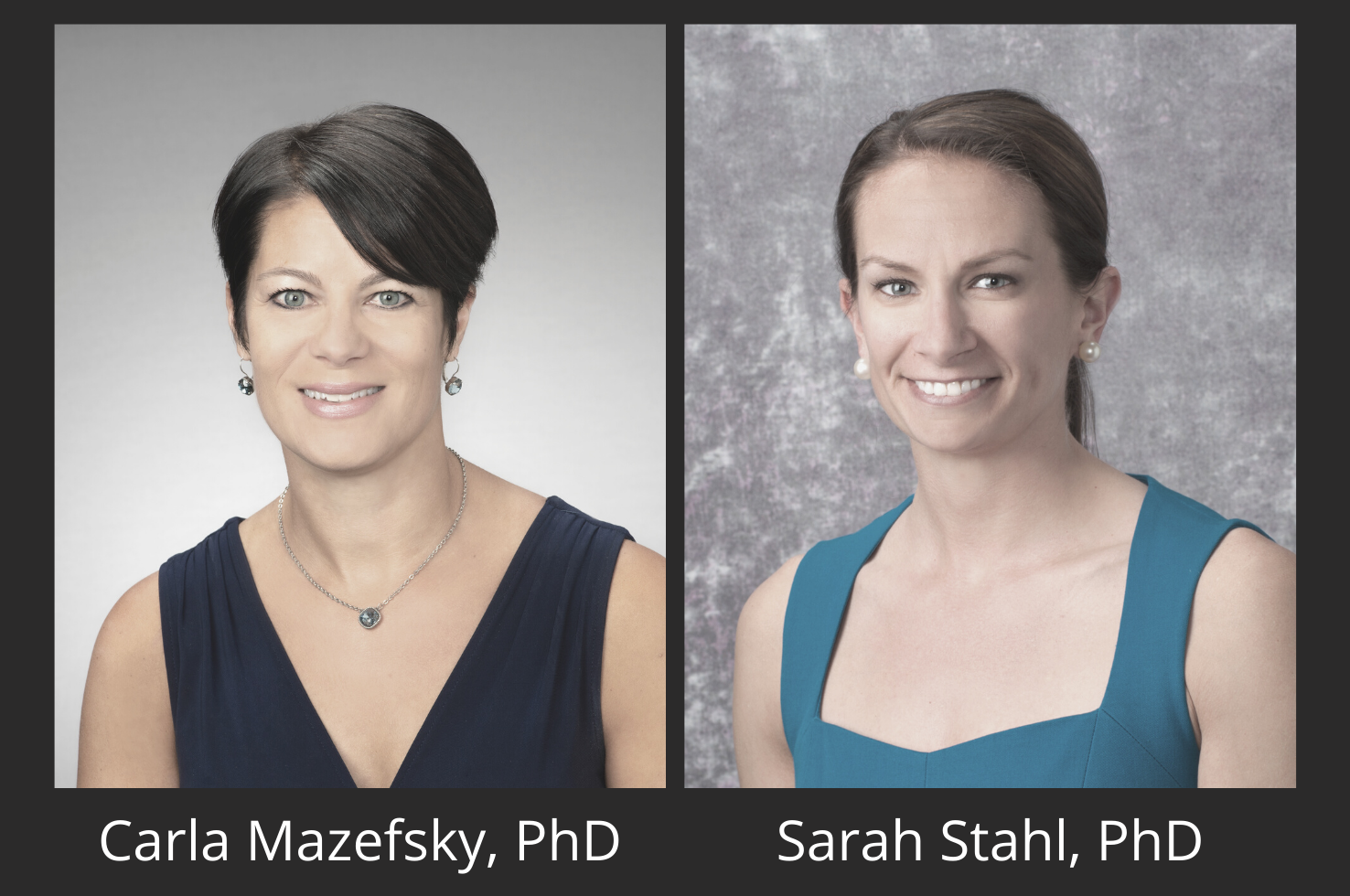 Congratulations to Carla Mazefsky, PhD (Associate Professor of Psychiatry and Psychology), & Sarah Stahl, PhD (Assistant Professor of Psychiatry and Clinical and Translational Science), who have received Medical Student Research Mentoring Merit Awards from the University of Pittsburgh School of Medicine. 
Research Mentoring Merit Awards recognize outstanding Longitudinal Research Project mentorship of graduating medical students and are presented at the annual Scholars Day celebration.
Dr. Mazefsky mentored Paul Kim on his project, "Response to the Emotional Awareness and Skills Enhancement (EASE) Program: Emotion Dysregulation and Intolerance of Uncertainty as Potential Mechanisms." 
"I was fortunate to first work with Paul when he obtained a full-time summer research position on Dr. David Brent's Innovative Methods in Pathogenesis and Child Treatment (IMPACT) T32 research training program. We worked on a paper together focused on the role of intolerance of uncertainty in emotion dysregulation and mental health difficulties in teenagers and young adults with autism spectrum disorder. He presented this work at both local and international conferences and the paper is about to be submitted for review. His excellent work was also recognized by a Roth Fellowship. It has also been really fun to see Paul grow as a medical student, researcher, and person. He has been a joy to work with and made my job as a mentor quite easy. I love any opportunity to get people excited about research and about autism. Fortunately, Paul has chosen to specialize in psychiatry, and we were lucky to have him match here at UPMC Western Psychiatric Hospital!"
Dr. Stahl mentored Helene Altmann on her project, entitled" Co-prescribed Benzodiazepines in Older Adults Receiving Antidepressants for Anxiety and Depressive Disorders: Association with Treatment Outcomes." The paper was published in the Journal of Clinical Psychiatry in 2020 with Helene serving as the first author. 
"Helene's goal is to become an independent translational researcher in geriatric psychiatry. In early 2020 she was awarded the New Investigator Award from the American Society of Clinical Psychopharmacology. At that meeting, Helene presented a poster describing the benzodiazepine project. This New Investigator Award is a very competitive program, and only a handful of medical students are selected. This spring she also successfully matched at UPMC for psychiatry residency," said Dr. Stahl. "Mentoring is one of the best perks of my job. Helene is a rising star in geriatric psychiatry, and I look forward to continued collaborations with her on projects of mutual interest."
Please join us in congratulating Dr. Mazefsky and Dr. Stahl!