Anneliese Murphree Named a UPMC MyHealth Role Model for Facing New Motherhood, the COVID Pandemic, and Cancer with Grace and Strength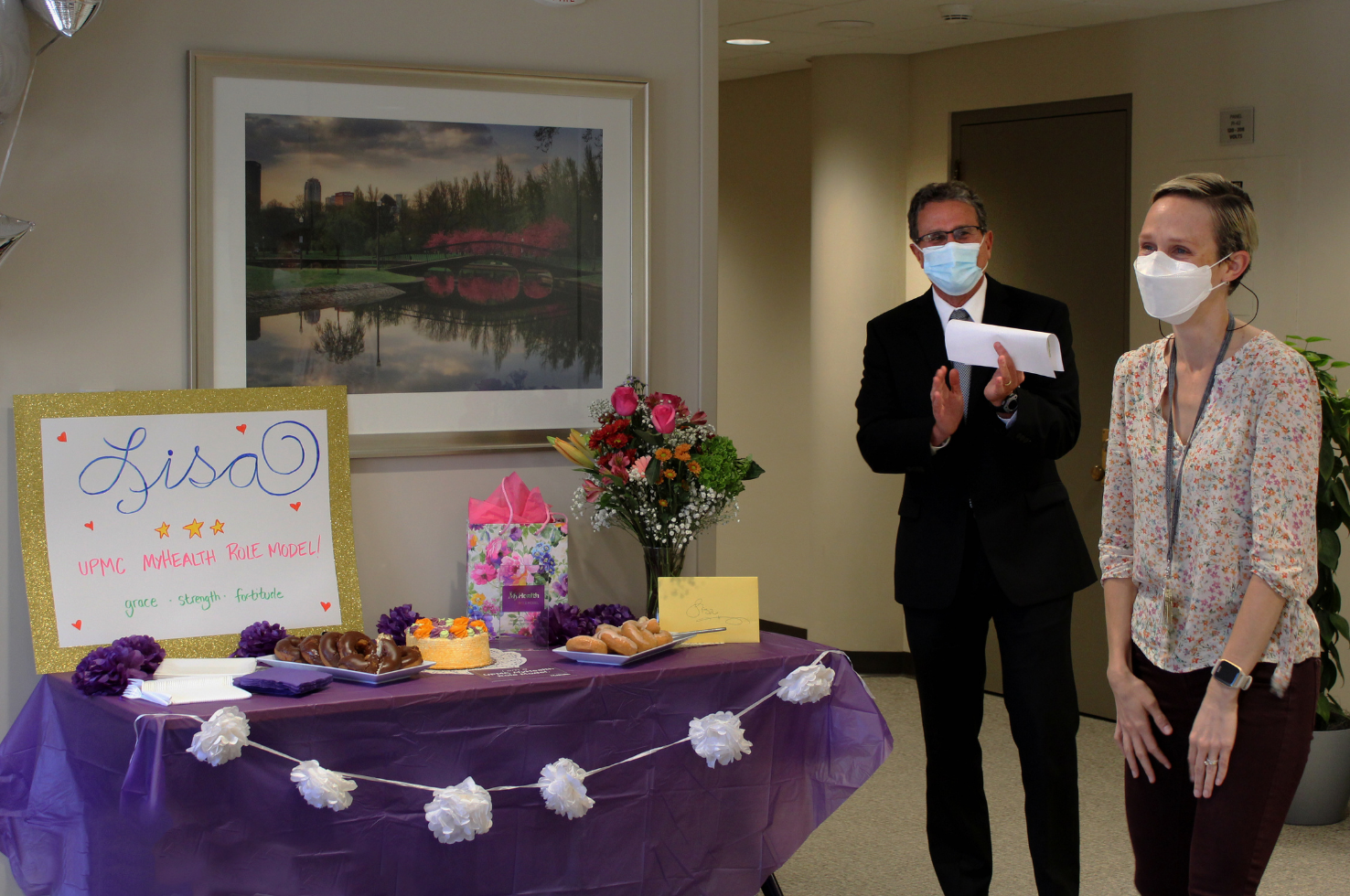 We are delighted to announce that Anneliese (Lisa) Murphree (Department of Psychiatry Director of Faculty Recruitment & Program Innovation) has been named a UPMC MyHealth Role Model! 
Lisa was nominated by her colleagues in the Department of Psychiatry Chair's office. They wrote:
"In March 2020, just as the pandemic struck, Lisa gave birth to her first child. Two months later, when her daughter was still an infant, Lisa was diagnosed with breast cancer, and—following surgical removal of the cancer—undertook a grueling 12-month treatment plan, receiving chemotherapy every three weeks, and daily radiation for four weeks. 

Throughout this ordeal, Lisa endured the pandemic and experienced the highs and lows of new motherhood. These experiences were compounded by the stress and physical toll of her cancer treatment. 

Over the last year, Lisa has maintained her longtime commitment to physical activity, taking daily walks, and bike riding when possible. To manage stress and maintain physical health, Lisa wrote in a journal, and practiced meditation and yoga. Normally an avid runner, Lisa was able to participate in the May 2021 Young Adult Survivors United annual 5K.

We have been endlessly impressed and inspired by Lisa over the last year. She has openly shared her struggles, sought professional support when needed, and handled the myriad physical challenges caused by the cancer treatment with grace and strength. She has not pretended that everything is fine, but has persevered in attending to her mental and physical health and in doing so, has expanded and redefined her notion of overall health."
Upon receiving the award, Lisa said, "Receiving a cancer diagnosis can be instantly disempowering. With one phone call, I went from feeling strong and healthy to feeling like a sick patient. Health had been such a big part of my identity, but this diagnosis forced me to expand my definition of health beyond eating right and exercising regularly.
Health also includes releasing suppressed emotions, increasing social support, developing resilience, reflecting on one's reasons for living, and more. Realizing that this life is not a dress rehearsal for something else – that it is happening right here, right now – has been a powerfully motivating force to make healthy choices and positive changes.  
I am so grateful for the support from my coworkers over the last 18 months. UPMC Western Psychiatric Hospital is full of wonderful, caring, compassionate individuals and
I know how fortunate I am to work here. I don't think there are many workplaces like ours. It is truly an honor to be the first recipient of the My Health Role Model Award for Western Psych."
Congratulations, Lisa, on a well-deserved honor!