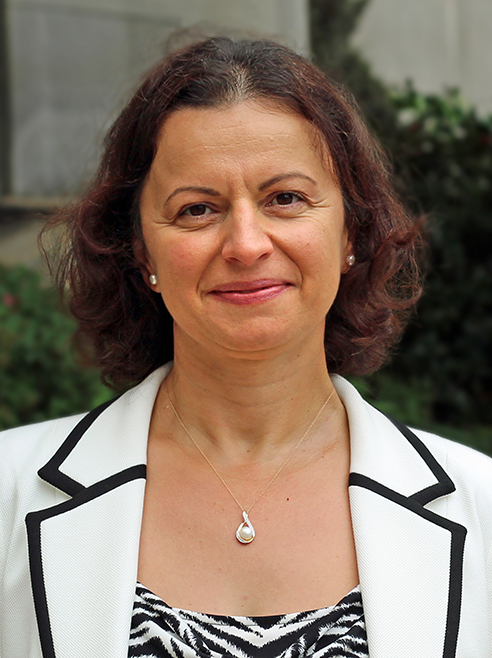 Dana L Tudorascu, PhD
Associate Professor of Psychiatry and Biostatistics
Contact Details
3811 O'Hara St.
Pittsburgh
PA
15213
Education & Training
PhD
Biostatistics
, University of Pittsburgh
Professional Affiliations
Member, American Statistical Association
Research Interests
Neuroimaging studies of age-related pathology; Statistical methods for multimodal imaging studies; Alzheimer's disease
Selected Research Publications & Products
Lopresti BJ, Campbell EM, Yu Z,Anderson SJ,Cohen AD, Minhas DS, Snitz BE,Royse SK,Becker CR, Aizenstein HJ, Mathis CA, Lopez OL, Klunk WE, Tudorascu, DL Influence of apolipoprotein-E genotype on brain amyloid load and longitudinal trajectories, Neurobiology of Aging, May 2020, https://doi.org/10.1016/j.neurobiolaging.2020.05.012, In Press.
Snitz BE, Tudorascu DL, Yu Z, Campbell E, Lopresti BJ, Laymon CH, Minhas DS, Nadkami NK, Aizenstein JH, Klunk WE, Weintraub S, Gershon RC, Cohen AD. Associations between NIH Toolbox Cognition Battery and in vivo brain amyloid and tau pathology in non-demented older adults. Alzheimers Dement (Amst). 2020;12(1):e12018. Published 2020 May 15. doi:10.1002/dad2.12018, PubMed PMID: 32426450.
Karim HT, Tudorascu DL, Cohen A, Price JC, Lopresti B, Mathis C, Klunk W, Snitz BE, Aizenstein HJ. Relationship Between Executive Control Circuit Activity, Amyloid Burden, and Education in Cognitively Healthy Older Adults, Am J Geriatric Psychiatry, 2019 Jul 19, pii: S1064-7481(19)30437-3. doi: 10.1016/j.jagp.2019.07.008, PMID:31402087.