Research Day Registration is Open!
It's time to register for the Fifteenth Annual Department of Psychiatry Research Day. We will be hosting this event at the University Club in Oakland on Thursday, June 18, 2015. Click here to view the program at a glance. Registration is required to attend this event, so be sure to submit your registration form by June 4, 2015.
We hope you will join us for this full-day event that showcases the research accomplishments of our Department.
The morning poster session will feature the work of 129 researchers representing a broad array of scientific interests.
The popular lunchtime roundtable discussions will also be offered again this year. Seating is limited, so you are encouraged to register early to secure a spot in one of the following roundtable discussions:
| Roundtable Topic | Facilitator(s) |
| --- | --- |
| Roundtable 1 - Research Training for Psychiatric Physicians | Danella Hafeman, MD, PhD and Brandon McKinney, MD, PhD |
| Roundtable 2 - New Technologies for Research | Michael Marshal, PhD, Jay Fournier, PhD and Jack Doman |
| Roundtable 3 - Translational Treatment Development | Robert Sweet, MD and Eva Szigethy, MD, PhD |
| Roundtable 4 - Different Modalities of Human Brain Imaging | Mary Phillips, MD, MD (CANTAB) and Dean Salisbury, PhD |
| Roundtable 5 - New Methods for Treatment Studies | David Brent, MD and Anne Germain, PhD |
| Roundtable 6 - NIMH Research Domain Criteria (RDoC) | Erika Forbes, PhD and Cecile Ladouceur, PhD |
| Roundtable 7 - Promotions/Career Development | Karen Matthews, PhD |
| Roundtable 8 - Machine Learning and Big Data | Neal Ryan, MD |
| Roundtable 9 - Translational Components in Clinical Research | Colleen McClung, PhD and Brant Hasler, PhD |
The afternoon Speed Dat(a)ing Sessions highlight the work of 12 Department investigators representing a broad range of scientific interests.
We are honored to have Dr. David Kupfer, Professor of Psychiatry and Clinical and Translational Science, as our keynote speaker for this year's event.
Register early and join us! Visit the Research Day page on our website to download a registration form.
If you have any questions, please contact Jeanie Knox Houtsinger (Email: knoxjv@upmc.edu; Telephone: 412-246-6784).
---

Center for Autism and Developmental Disorders
Under the leadership of Service Chief Martin Lubetsky, MD, and faculty members Benjamin Handen, PhD and John McGonigle, PhD, the Center for Autism and Developmental Disorders provides excellent clinical services and also serves as an important environment for research and training.
Autism Spectrum Disorder affects about one out of every 68 children, and boys are almost five times more likey to be identified with autism than girls. Individuals with autism have difficulties with social interaction and communication, and unusual or intense interests or repetitive behaviors.
The Center for Autism and Developmental Disorders at Western Psychiatric Institute and Clinic of UPMC (WPIC) under the leadership of Martin Lubetsky, MD, Chief of the Center and of Child and Adolescent Psychiatry Services, is one of 17 national locations of the Autism Treatment Network and serves as Western Pennsylvania's Regional Autism, Services, Education, Resources and Training Center. However, the Center's impact reaches well beyond Western Pennsylvania.
"What sets this program apart from others is the comprehensive evidence-based assessment and treatment approach to treating individuals with Autism Spectrum Disorder across the lifespan," said Dr. Lubetsky, "Teaching trainees, implementing clinical research, and providing tools and resources for parents really is what makes the Center for Autism and Developmental Disorders unique from other programs."
Under the leadership of Service Chief Martin Lubetsky, MD, and faculty members Benjamin Handen, PhD and John McGonigle, PhD, the Center for Autism and Developmental Disorders provides excellent clinical services and also serves as an important environment for research and training.
Through the efforts of Department of Psychiatry faculty and the Center's dedicated clinicians and support staff, the program has garnered national and international attention for its educational, clinical and research activities. For example, in October 2013, John McGonigle, PhD, traveled to Moscow, Russia, at the invitation of leaders coordinating the 2013 International Forum on Autism, to share his expertise on behavior assessments and management of autism across the lifespan and educating students with autism in the classroom. Drs. Martin Lubetsky, Benjamin Handen, and John McGonigle collaborated on the book Autism Spectrum Disorder as part of the Pittsburgh Pocket Psychiatry Series published by Oxford University Press. The book is used as part of the educational curriculum and a resource in many training programs across the United States.
The Center provides an excellent environment for research designed to help individuals diagnosed with Autism Spectrum Disorder and their families. The Merck Inpatient Unit recently received a three-year national accreditation from the National Association on Dual Diagnosis (NADD) and the children and adolescents group was selected to join the Autism and Developmental Disabilities Inpatient Research Collaborative, a national effort of six specialized inpatient units, to develop best practice pathways for assessment and treatment with initial support from the Simons Foundation and the Nancy Lurie Marks Family Foundation. With support from the Health Research Services Administration, Benjamin Handen, PhD is investigating the efficacy of a medication to decrease weight gain in children who are prescribed atypical antipsychotic medications (which often leads to significant weight gain) in the Merck Child and Adolescent Outpatient Clinic. The Autism Treatment Network, under the direction of Dr. Handen and with support from the national Autism Speaks initiative, is dedicated to developing and implementing evidence-based assessment and treatment strategies for children, adolescents and adults with autism.
The most effective treatment and care for people with Autism Spectrum Disorder starts in early childhood, with treatment starting in some children as young as 18 months. The Center for Autism and Developmental Disorders has a range of programs and services for children including inpatient and outpatient, early intervention programs such as Autism Early Intensive Behavioral Intervention, and Theiss Early Autism Preschool Program, and summer programs offering intensive day treatment and therapeutic inclusion services.
To meet the needs of adults living with Autism Spectrum Disorder, the Center also offers a range of programs and services for adults including the Merck Adult Outpatient Clinic, Vocational Training Center and Supported Employment Program, and Merck Inpatient Unit for adults.
To learn more about the Center and accessing their services, click here.
---
Clinician Educator Faculty Development Program
The Clinician Educator Faculty Development Program is an innovative career development program tailored specifically for newer Department of Psychiatry physician faculty at the Assistant Professor-level who are clinicians, educators and/or administrators.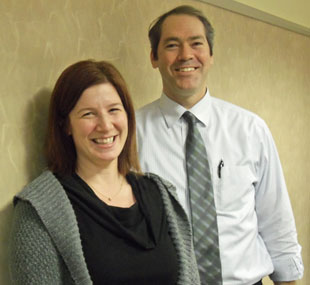 Drs. Alexis Fertig and James Tew, Jr.
Led by James Tew, Jr., MD, Director, and Alexis Fertig, MD, Associate Director, the program aims to enhance the careers of our clinician educators through a series of activities including: facilitating effective mentoring teams; providing didactic materials relevant to career development; and fostering a peer network to support career growth and the attainment of career goals.
The structure of this unique program involves monthly one-hour meetings facilitated by the directors of the program and features presentations and discussions on a host of relevant topics. Participants are also encouraged to share their experiences and projects within the group at these meetings, and discuss mentor-mentee relationships, strategies for career development, and identifying new opportunities for professional growth. In addition to Drs. Tew and Fertig, the Clinician Educator Faculty Development Program is also supported by an advisory group strongly committed to the career development of our clinician educators. The advisory group consists of Karen Matthews, PhD, Kenneth Nash, MD, MMM, Lalith Solai, MD and Lori Zippay, Academic Administrator.
Participants are asked to commit to the program for a two-year period, during which time they will attend monthly meetings, establish a mentoring team, and identify and work on an academic project or initiative that falls within their individual goals for their own career development. The Department of Psychiatry established the program in 2011 and celebrated the graduation of the first group of clinician educator faculty members who successfully completed this program in January 2014. Monthly meetings for the new class of clinician educator program participants will begin in early 2014.

2014 Graduating Class of the Clinician Educator Faculty Development Program with Program Faculty
and Department Chairman, Dr. David Lewis
Participants in the program have been actively involved in the planning and implementation of the Annual Clinician Educator Showcase sponsored by the University of Pittsburgh Department of Psychiatry and Western Psychiatric Institute and Clinic of UPMC (WPIC). This annual event highlights innovative clinical practices and teaching methods, features sessions on support and strategies for career advancement for individuals in the clinician educator pathway, and celebrates the many accomplishments of the department's dedicated clinician educators.
For more information about the Clinician Educator Faculty Development Program, please contact Dr. Tew at tewxjd@upmc.edu or Dr. Fertig at fertigam@upmc.edu.
---
Dr. Antoine Douaihy Collaborates with Medical Students and Residents to
Develop First Guide on Motivational Interviewing for Medical Trainees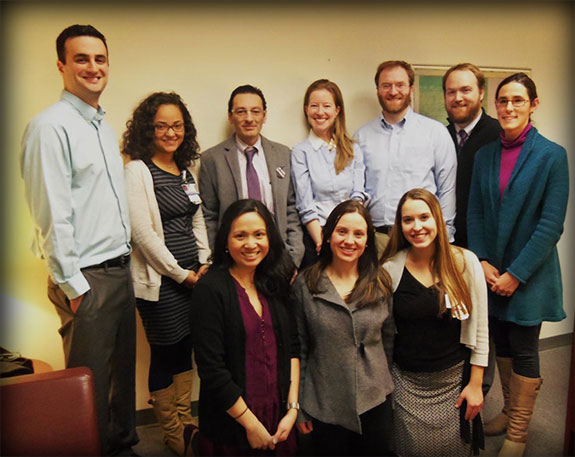 Dr. Antoine Douaihy (back row, center) worked with psychiatry residents and medical students to develop the first Motivational Interviewing guide of its kind for medical trainees.
Motivational Interviewing has transformed how physicians engage with patients, families, and colleagues, and is one of the most powerful tools available to promote behavior change in patients. It has become particularly important in an age where behavior change is no longer limited to substance use or the field of psychiatry, but is also used to help patients manage chronic diseases such as diabetes, hypertension, heart disease, and obesity. MotivationaI Interviewing and its adaptations have also been studied by more and more researchers in the behavioral health field. This technique has become an established evidence-based approach to help people change the outcomes of their illnesses and the course of their lives.
In order to enhance the broad utilization of Motivational Interviewing, Dr. Antoine Douaihy led the development of a novel training book on the topic. Dr. Douaihy is an Associate Professor of Psychiatry and also serves as a Co-Director of the Office of Residency Training and Director of the Addiction Psychiatry Fellowship Program at Western Psychiatric Institute and Clinic of UPMC (WPIC). Dr. Douaihy's expertise is in the areas of training and research in substance use disorders and the psychology of change, particularly with regard to Motivational Interviewing.
When Dr. Douaihy and his faculty colleagues, Drs. Thomas Kelly and Melanie Gold, decided to create a clinically useful toolkit on Motivational Interviewing for medical trainees, they reached out to medical students and residents to engage them in the collaborative process.
"The initial idea of the book originated from a collective brainstorming process involving many medical trainees from the University of Pittsburgh who have been trained in Motivational Interviewing and are practicing it," said Dr. Douaihy, "At its core, the key strength, originality and innovation of this book is that it was inspired by and written by medical trainees for medical trainees."
The result is the first Motivational Interviewing guide of its kind - Motivational Interviewing: A Guide for Medical Trainees recently published by the Oxford University Press. The book, written in an easy-to-read, practical and personal style, is filled with skillfully crafted clinical scenarios, tools, tips, and personal reflections of trainees illustrating the experiences and challenges of learning and implementing Motivational Interviewing in medical encounters. The guide has received very positive reviews since its publication. As one reviewer remarked, "this book will become an essential text for the generation of future physicians that will have to undoubtedly deal with the challenges of behavior change in medical practice."
---
The Department of Psychiatry has created several new resources to assist researchers in the appropriate conduct of research involving human subjects. These Department-specific resources recognize the importance and increasing complexity of human subjects research, and the particular challenges that face new investigators. Department efforts will be led by Christopher M. Ryan, Ph.D., former Director of the University of Pittsburgh Institutional Review Board, and Co-Director of the CTSI Regulatory Knowledge and Support Core. New resources include:
Individual consultation during the career development award (K) review process. These consultations will focus on developing effective study designs and recruitment strategies that minimize risk to subjects and are consistent with IRB regulatory requirements and ethical principles. Dr. Ryan will assist K award candidates in preparing the Human Subjects section of the application, developing consent forms and recruitment materials, and completing IRB OSIRIS applications.
A Human Subjects workshop, offered 2 to 3 times a year, on preparation of consent forms and Institutional Review Board (IRB) protocols. Workshops are targeted to new faculty members and to K award applicants who have submitted their applications. These small group workshops will include an overview of DHHS, FDA and University requirements for consent forms and IRB-other relevant documents, as well as review and discussion of those materials previously found to be effective by our local researchers. Outcomes include preparation of consent documents, recruitment materials and an OSIRIS application for each participant's planned or ongoing research study.
Individualized formal (or informal) consultation on a range of topics related to the conduct of human subjects research. These consultations are open to all faculty and post-doctoral fellows, and may include, but are not limited to:
New study start-up support to ensure that key materials (e.g., manual of operations; inclusion/exclusion checklists; regulatory binders; etc.) are available and good clinical research practice guidelines are being followed.
Advice on completing OSIRIS applications, including the preparation of justifications for different types of waivers, and assistance in addressing special population issues, participant payments, recruitment strategies, data sharing plans, etc.
Development/revision of consent forms and recruitment materials
Training on good research practices, including optimal consent processes, for all members of the research team
Addressing human subjects related questions that arise during the preparation of a grant application, a study protocol, or an IRB OSIRIS application
In addition to the new initiatives described above, the University of Pittsburgh's IRB and Clinical and Translational Science Institute (CTSI) also provide important resources designed to assist investigators in the preparation of research proposals, IRB applications, and the conduct of their research:
For consultation or more information, e-mail Dr. Christopher Ryan at ryancm@upmc.edu.
---
Dr. Alison Hipwell has devoted her academic career to studying female development and women's health issues. She began her career as a Psychiatric Nursing Assistant in an inpatient unit for children at a London psychiatric hospital after earning an undergraduate degree in Psychology. Now, as a Professor of Psychiatry and Psychology at the University of Pittsburgh, Dr. Hipwell is leading a program of intergenerational research built on the 16-year longitudinal Pittsburgh Girls Study, an innovative program dedicated to the long-term study of inner-city girls' social, behavioral and emotional development.
Since joining the faculty in 2001, Dr. Hipwell has led and collaborated on a series of studies focusing on precursors and developmental trajectories of psychopathology, conduct disorder, depression, female development, and sexual risk taking. We talked with Dr. Hipwell about the challenges of a building a successful research career and how she's expanded her research by building professional relationships with researchers who have scientific backgrounds very different from her own.
How have you built collaborations with other scientists? When I arrived in Pittsburgh in 2001, I was incredibly fortunate to join a group that has spawned several long-term, productive collaborations. These relationships have thrived on the complementary skills and expertise that we have each brought to a somewhat overlapping research agenda, but paramount has been the supportive friendships that these collaborations have engendered. In recent years, I have been more purposeful about identifying colleagues with distinct research interests from my own to collaborate on specific projects. Clearly there are rich pickings in the Department! It has been essential to make use of opportunities to learn about colleagues' work via talks, seminars and the Annual Department of Psychiatry Research Day, and the process of reviewing others' grant submissions has been invaluable. But discussing ideas over coffee is a good place to start. For me, there is no substitute for a strong personal connection to make the scientific process a more stimulating and enjoyable experience!
What is the most challenging aspect of being a researcher for you? Without doubt, one of the biggest challenges has been to learn how to juggle the responsibilities of conducting good science, managing resources, providing quality teaching and disseminating research findings, while also writing competitive grant proposals for future work.
What new projects are you excited to be working on? I am really excited about a new NIMH-funded study that Mary Phillips and I started a few months ago, which examines brain-behavior relationships underlying positive and negative emotionality in infants. In this project, we will recruit about 70 three-month-old infants to complete neuroimaging assessments in collaboration with colleagues at the Children's Hospital of Pittsburgh. The mothers of these infants are young adult participants of the Pittsburgh Girls Study whose own parenting experiences have been well characterized since childhood, and so this study also provides a unique opportunity to examine intergenerational transmission of risk. Our goal is to identify measures of prefrontal cortical-amygdala emotional processing and regulation neural circuitry associated with emotional reactivity at this critical stage in human neurodevelopment. We also aim to examine the predictive utility of these neuroimaging indices for later infant emotional regulation at nine months, and the ways in which maternal caregiving influences these brain-behavior relationships. The study logistics are certainly challenging (e.g. infants don't always go to sleep when we would like them to), but we hope the end results will be well worth the hard work!
Are there political or social issues you feel passionate about? I have always felt strongly about the apparent acceptance of many forms of violence in our society, especially among children. It is perhaps not surprising given that we live in an age of unprecedented media use with relatively few filters, that many children are now exposed to a wide range of developmentally inappropriate stimuli. It has been particularly concerning to observe the apparent habituation and insensitivity to distressing scenes of physical aggression in preschool children. Violent images are now so commonplace that a request to change a TV channel showing violent content in a public place is often met with bemusement or dismissal. These kinds of experiences have made me reflect often on my dual responsibilities as a parent to protect my child's innocence for as long as possible while also trying to promote resilience in a realistic way.
What do you do for fun/to relax? In addition to spending time with family and friends, I have always enjoyed travel and being outdoors. One of our favorite spots to go for the weekend is an area of designated wilderness in West Virginia to hike, camp and enjoy the views. In addition, I try to go to visual and performance arts events as much as possible, and have been enjoying the growing 'foodie' scene in the city during the past few years.
---
Psychosomatic Medicine Fellowship Program
The Department of Psychiatry is proud to announce the development and accreditation of a one-year Fellowship Program in Psychosomatic Medicine.
Led by Drs. Kurt Ackerman, Pierre Azzam, and Priya Gopalan, the Fellowship is a vital component of the Department's long-standing commitment to scientific innovation, clinical excellence, and higher education at the interface of psychiatry and other medical disciplines.
Psychosomatic Medicine Fellows will gain experience through their service in a large academic psychiatry consultation program, and will obtain advanced training in several specialty areas including clinical neuroscience, women's mental health, oncology, palliative care, transplantation, and HIV/AIDS. The program takes full advantage of the exceptional mentorship provided by enthusiastic and devoted Department of Psychiatry faculty representing diverse areas of expertise.
The Department of Psychiatry has forged strong relationships with numerous clinical programs throughout the University of Pittsburgh Medical Center that serve as training sites for Psychosomatic Medicine Fellows including:
The Psychiatry Consultation-Liaison Service at UPMC Presbyterian and Magee-Women's Hospitals - Fellows will gain exposure to diverse and high-volume patient care with a wide array of medical, surgical, obstetrical-gynecological, and psychiatric presentations.

The University of Pittsburgh Cancer Institute and the UPMC Palliative and Supportive Care Institute – Through rotations in these programs, trainees will function as devoted psychiatric consultants within specialized oncology and palliative care teams.

The Starzl Transplantation Institute – Named in honor of transplant pioneer Dr. Thomas Starzl, the Transplantation Institute will provide fellows with the opportunity to provide longitudinal psychiatric care to patients at various stages of transplantation and in an array of clinical settings.

The Pittsburgh AIDS Center for Treatment - Fellows will have the unique opportunity to collaborate with non-behavioral health providers as part of a multidisciplinary HIV-specialized clinic.
In addition to the invaluable experience they will gain in the programs listed above, fellowship participants also will take part in the Department's extensive and eclectic education program that includes weekly didactic courses, case-based conferences, clinical supervision, individual mentorship, and completion of a personalized scholarly project.
Applications will be accepted through November 30, 2014 for positions commencing July 1, 2015. Click here for more information on the Psychosomatic Medicine Fellowship Program.
---
Program in the Spotlight
Services for Teens at Risk (STAR-Center)
Services for Teens at Risk (STAR-Center) is a specialty clinical, training, and research program of the Department of Psychiatry and Western Psychiatric Institute and Clinic of UPMC. Founded in 1986 by David Brent, MD, and Mary Margaret Kerr, EdD, STAR-Center provides a comprehensive suicide prevention center and an Intensive Outpatient Program for teens and children. With support from the Commonwealth of Pennsylvania, the outpatient clinic has provided assessment and treatment for over 7,800 youth at risk for suicide. Since 2007 and in partnership with Western Psychiatric Institute and Clinic of UPMC, STAR-Center has offered expanded programs to treat pre-teens for depression and children and adolescents suffering from anxiety. In recognition of an important clinical need in our community, STAR-Center now provides care for children and adolescents with post-concussion syndrome, which often includes sleep difficulties, demoralization, depression, and suicidal ideation and work closely with colleagues in Sports Medicine and Pediatric Neurology on the management of these youth. In addition to treatment, the Center provides opportunities for clinical training and innovative research, both of which contribute to the overall mission of addressing the pressing issues of youth suicide.
STAR-Center offers a range of clinical programs to support children, adolescents, and their families. Children and adolescents can come to the STAR-Center for assessment and evaluation of current and past psychiatric problems. For those who decide to continue treatment, the Center has options for cognitive behavior therapy and pharmacology as part of their outpatient treatment program. For those requiring more intensive care than weekly therapy, the STAR-Center Intensive Outpatient Program treats adolescents; this program uses dialectic behavior therapy and cognitive behavior therapy. The center offers a monthly educational group for parents of children with depression and holds support groups for adults as well as youth who have lost a family member or loved one to suicide. Dr. Brent and his colleagues have recently launched a new program for youth and their families who will be graduating high school to help them learn to take responsibility
for their own treatment in order to minimize the risk for relapse during the sometimes stressful transition to college or other post-high school activities.
A leading program in the field of youth suicide intervention, STAR-Center also provides an array of training and educational services to students, schools, community organizations, and mental health agencies. Kim Poling, LCSW, who serves as the Clinical Program Manager for STAR, has overseen training of numerous trainees in the assessment and management of youth at risk for suicide. Graduate and post-graduate students are eligible to participate in electives, offered for the Master, PhD, resident, and research fellow levels. The University of Pittsburgh also sponsors a graduate-level course on cognitive behavioral therapy taught by one current and one former STAR-center staff members. In addition to their work with trainees, STAR-Center provides resources for both families and professionals, such as handbooks and manuals on the topics of suicide treatment, living with depression, anxiety, and more. The Center also provides training programs and workshops such as community awareness education and postvention activities for schools following a suicide event.
Kim Poling, LCSW and David Brent, MD
At the foundation of the culture of the STAR-Center is the commitment to the importance of continued research to better understand the treatment and prevention of depression, anxiety, and suicidal behavior.
"STAR-Center has supported six major NIMH-funded clinical trials on the treatment and prevention of adolescent depression, child and adolescent anxiety, and adolescent suicidal behavior, and several other studies to understand the etiology of suicidal behavior," said Dr. Brent, "One exciting new venture will be to develop a brief, inpatient intervention for suicidal youth to decrease recurrence of suicidal behavior and improve the transition to outpatient care." Therefore, in addition to providing evidence-based treatment for youth with depression, anxiety, and suicidal behavior, STAR-Center also adds to the evidence base and helps to improve our understanding of the cause and treatment of at-risk children and adolescents.
Visit the STAR Center website to learn more about this innovative program and the clinical and educational services available.
---
The Neuroscience Clinical and Translational Research Center (N-CTRC)
The Neuroscience Clinical and Translational Research Center (N- CTRC), is a valuable resource for researchers from a variety of disciplines. Located on the 13th floor of Western Psychiatric Institute and Clinic (WPIC), the Center offers investigators a number of services including:
Investigational drug administration
Polysomnography (in-lab and in-home)
Sleep deprivation studies
Psychophysiological assessments (blood pressure, electroencephalography, 15-lead electrocardiography, heart rate, temperature, oximetry)
Specimen collection (blood, saliva, urine)
Facilities include five participant bedrooms, two time-isolation suites, a nurses' station, a sleep-recording control room, a treatment room, study preparation area, and patient lounge. Three bedrooms are equipped with IV ports for medication administration and blood sampling.
All patient rooms provide electroencephalography sleep, electrocardiography (EKG), respiration, oxyhemoglobin saturation, periodic limb movements, heart rate and heart-rate variability, core body temperature, skin temperature, mood, and performance monitoring capability. In addition, rooms are equipped to conduct Continuous Positive Airway Pressure (C-PAP) evaluations. Nursing personnel are available to conduct participant assessments, blood draws, 12-lead EKGs, participant monitoring during positron emission tomography procedures, and other nursing functions. The N-CTRC also has a pupillometer and eye-tracker. Electrophysiological equipment is supported by qualified systems and electronics specialists.
Hours of Operation
Polysomnography and overnight rooms are available 24 hours daily based on protocol needs.
Outpatient Nursing is provided from 6:00 am to 3:30 pm Monday through Friday. Additional hours are available upon request.
Contact
To learn more about how the Center can offer in terms of your own research projects, we invite you to contact the N-CTRC Manager, Christina Nicassio (Telephone: 412-246-6407; Email: nicassiocv@upmc.edu).
---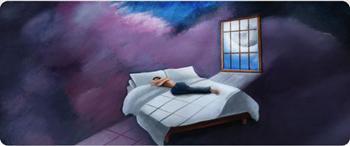 The University of Pittsburgh Sleep Medicine Institute (UPSMI) is an integrated, multi-disciplinary program encompassing research, teaching, and clinical care.
Under the leadership of Dr. David Kupfer (Director) and Drs. Daniel Buysse and Patrick Strollo, Jr. (Co-Directors), the UPSMI leverages the talent, infrastructure and resources of the University of Pittsburgh Clinical and Translational Science Institute (CTSI) and its partners to offer unique multidisciplinary training opportunities for young researchers, to support collaborative research initiatives across the lifespan with investigators from a wide range of disciplines, and to help translate promising new treatments into practice.
| | | |
| --- | --- | --- |
| David J. Kupfer, MD | Daniel J Buysse, MD | Patrick Strollo Jr, MD |
The UPSMI coordinates activities of the Sleep Research Network, a consortium of CTSA institutions established in 2007 to promote multidisciplinary research collaborations that address significant public health and mechanistic questions related to sleep medicine. The network was created to promote and facilitate collaborative projects in sleep medicine, and to attract and support the training of the next generation of sleep medicine investigators. The network comprises researchers representing 40 of the current 60 CTSA institutions across the United States.
UPSMI activities focus on four core areas: research, training, clinical interactions, and community outreach. The Institute's focus on the complex associations between sleep, health, and disease brings together experts engaged in research, clinical care, and educational programs throughout the University's Schools of the Health Sciences. The UPSMI helps to coordinate sleep medicine activities across the University, including: one of the top three NIH-funded sleep research faculties in the United States; an NIH-funded T32 training program in multidisciplinary, translational sleep medicine; the UPMC Sleep Center; and an ACGME-accredited clinical sleep medicine fellowship program.
Please visit the websites for the University of Pittsburgh Sleep Medicine Institute (www.sleep.pitt.edu) and the Sleep Research Network (www.sleepresearchnetwork.org) to learn more.