Clinician Educator Faculty Development Program
The Clinician Educator Faculty Development Program is an innovative career development program tailored specifically for newer Department of Psychiatry physician faculty at the Assistant Professor-level who are clinicians, educators and/or administrators.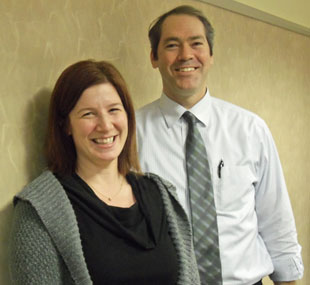 Drs. Alexis Fertig and James Tew, Jr.
Led by James Tew, Jr., MD, Director, and Alexis Fertig, MD, Associate Director, the program aims to enhance the careers of our clinician educators through a series of activities including: facilitating effective mentoring teams; providing didactic materials relevant to career development; and fostering a peer network to support career growth and the attainment of career goals.
The structure of this unique program involves monthly one-hour meetings facilitated by the directors of the program and features presentations and discussions on a host of relevant topics. Participants are also encouraged to share their experiences and projects within the group at these meetings, and discuss mentor-mentee relationships, strategies for career development, and identifying new opportunities for professional growth. In addition to Drs. Tew and Fertig, the Clinician Educator Faculty Development Program is also supported by an advisory group strongly committed to the career development of our clinician educators. The advisory group consists of Karen Matthews, PhD, Kenneth Nash, MD, MMM, Lalith Solai, MD and Lori Zippay, Academic Administrator.
Participants are asked to commit to the program for a two-year period, during which time they will attend monthly meetings, establish a mentoring team, and identify and work on an academic project or initiative that falls within their individual goals for their own career development. The Department of Psychiatry established the program in 2011 and celebrated the graduation of the first group of clinician educator faculty members who successfully completed this program in January 2014. Monthly meetings for the new class of clinician educator program participants will begin in early 2014.

2014 Graduating Class of the Clinician Educator Faculty Development Program with Program Faculty
and Department Chairman, Dr. David Lewis
Participants in the program have been actively involved in the planning and implementation of the Annual Clinician Educator Showcase sponsored by the University of Pittsburgh Department of Psychiatry and Western Psychiatric Institute and Clinic of UPMC (WPIC). This annual event highlights innovative clinical practices and teaching methods, features sessions on support and strategies for career advancement for individuals in the clinician educator pathway, and celebrates the many accomplishments of the department's dedicated clinician educators.
For more information about the Clinician Educator Faculty Development Program, please contact Dr. Tew at tewxjd@upmc.edu or Dr. Fertig at fertigam@upmc.edu.
---
The Neuroscience Clinical and Translational Research Center (N-CTRC)
The Neuroscience Clinical and Translational Research Center (N- CTRC), is a valuable resource for researchers from a variety of disciplines. Located on the 13th floor of Western Psychiatric Institute and Clinic (WPIC), the Center offers investigators a number of services including:
Investigational drug administration
Polysomnography (in-lab and in-home)
Sleep deprivation studies
Psychophysiological assessments (blood pressure, electroencephalography, 15-lead electrocardiography, heart rate, temperature, oximetry)
Specimen collection (blood, saliva, urine)
Facilities include five participant bedrooms, two time-isolation suites, a nurses' station, a sleep-recording control room, a treatment room, study preparation area, and patient lounge. Three bedrooms are equipped with IV ports for medication administration and blood sampling.
All patient rooms provide electroencephalography sleep, electrocardiography (EKG), respiration, oxyhemoglobin saturation, periodic limb movements, heart rate and heart-rate variability, core body temperature, skin temperature, mood, and performance monitoring capability. In addition, rooms are equipped to conduct Continuous Positive Airway Pressure (C-PAP) evaluations. Nursing personnel are available to conduct participant assessments, blood draws, 12-lead EKGs, participant monitoring during positron emission tomography procedures, and other nursing functions. The N-CTRC also has a pupillometer and eye-tracker. Electrophysiological equipment is supported by qualified systems and electronics specialists.
Hours of Operation
Polysomnography and overnight rooms are available 24 hours daily based on protocol needs.
Outpatient Nursing is provided from 6:00 am to 3:30 pm Monday through Friday. Additional hours are available upon request.
Contact
To learn more about how the Center can offer in terms of your own research projects, we invite you to contact the N-CTRC Manager, Christina Nicassio (Telephone: 412-246-6407; Email: nicassiocv@upmc.edu).
---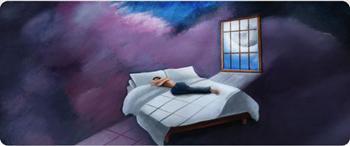 The University of Pittsburgh Sleep Medicine Institute (UPSMI) is an integrated, multi-disciplinary program encompassing research, teaching, and clinical care.
Under the leadership of Dr. David Kupfer (Director) and Drs. Daniel Buysse and Patrick Strollo, Jr. (Co-Directors), the UPSMI leverages the talent, infrastructure and resources of the University of Pittsburgh Clinical and Translational Science Institute (CTSI) and its partners to offer unique multidisciplinary training opportunities for young researchers, to support collaborative research initiatives across the lifespan with investigators from a wide range of disciplines, and to help translate promising new treatments into practice.
| | | |
| --- | --- | --- |
| David J. Kupfer, MD | Daniel J Buysse, MD | Patrick Strollo Jr, MD |
The UPSMI coordinates activities of the Sleep Research Network, a consortium of CTSA institutions established in 2007 to promote multidisciplinary research collaborations that address significant public health and mechanistic questions related to sleep medicine. The network was created to promote and facilitate collaborative projects in sleep medicine, and to attract and support the training of the next generation of sleep medicine investigators. The network comprises researchers representing 40 of the current 60 CTSA institutions across the United States.
UPSMI activities focus on four core areas: research, training, clinical interactions, and community outreach. The Institute's focus on the complex associations between sleep, health, and disease brings together experts engaged in research, clinical care, and educational programs throughout the University's Schools of the Health Sciences. The UPSMI helps to coordinate sleep medicine activities across the University, including: one of the top three NIH-funded sleep research faculties in the United States; an NIH-funded T32 training program in multidisciplinary, translational sleep medicine; the UPMC Sleep Center; and an ACGME-accredited clinical sleep medicine fellowship program.
Please visit the websites for the University of Pittsburgh Sleep Medicine Institute (www.sleep.pitt.edu) and the Sleep Research Network (www.sleepresearchnetwork.org) to learn more.