New Behavioral Health Intensive Care Unit Offers Treatment for Higher Acuity Patients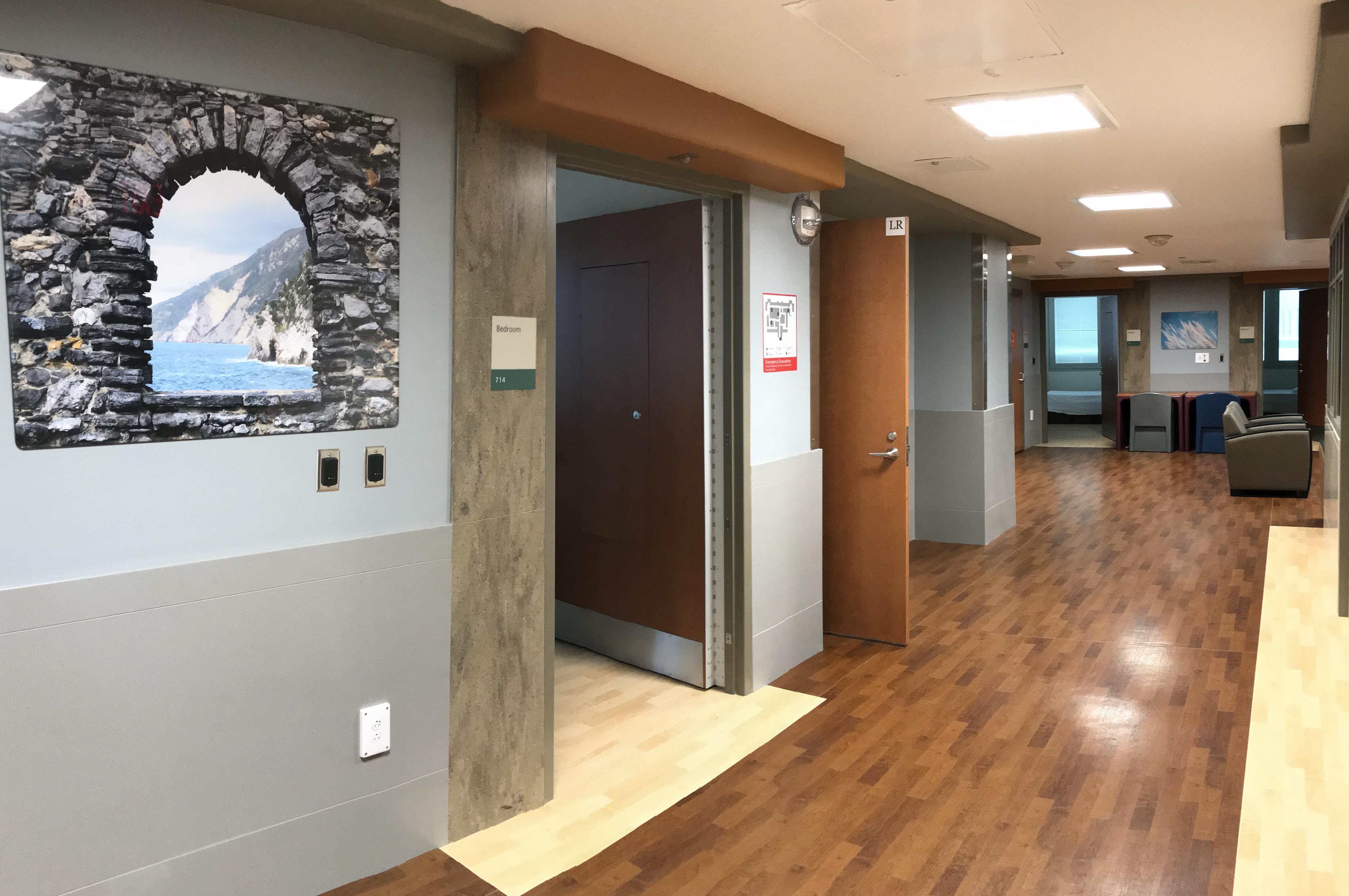 Western Psychiatric Institute and Clinic (WPIC) opened its brand new Behavioral Health Intensive Care Unit (BHICU) to provide expert care and intensive psychiatric medication management for patients with high clinical acuity. The unit opened in November 2017 as part of a massive redesign of WPIC's 7th floor and serves as an adjoining, seven-bed sister unit to a general adult unit. The safe, therapeutic environment allows patients with severe mental illness, such as mania and psychosis related to schizophrenia or bipolar disorder, to progress toward recovery without jeopardizing the support and safety of other patients.
"The BHICU allows us to manage disruptive patients in an inpatient environment where staff can offer more one-on-one time," said Jamie Tew, MD, Associate Chief of Clinical Services, WPIC Inpatient and Medical Director, Quality and Clinical Pathways. "The unit allows us to accelerate the intensity of services for and administer more targeted treatment to patients in extreme distress in a setting where choices are available whenever possible, eliciting higher hope toward recovery and improved patient experience."
The layout of the general adult units made close observation of highly agitated patients problematic. The BHICU features a central nurses station with a "fish-bowl" view, allowing staff to see all patient rooms, the patient dining area, and other common spaces at a glance. Each room is private and serves as a bedroom, seclusion room, and sensory room and has a window to allow for less intrusive observation and monitoring. The new physical environment and resources optimize safety and stability for the patients and allow them more one-on-one time with staff. The unit offers therapeutic groups and activities to meet a wide range of needs as the patient moves through the recovery process. Programming includes psychoeducational and skills training groups, therapy and therapeutic groups and activities facilitated by the Creative and Expressive Art Therapy department, and light physical activity.
"All aspects of the BHICU are working well. We are treating our target population, and we are meeting our goals and maintaining a patient registry," said Dr. Tew, who evaluates patients for admission into the BHICU. "We also are using the Nursing Observed Illness Intensity Scale (NOIIS) as a validated, objective system for tracking patient behaviors and treatment response over time, and we are excited about using these measurements to evaluate the BHICU's success."
Staff use a team approach, and family members and caregivers are included in appropriate meetings and are encouraged to be a part of the treatment process. The BHICU shares a nurse manager, program director, and staff with the general adult unit. BHICU treatment team members are Jeremy Wanless, Unit Nursing Director; Char Suwan, Unit Program Director; Zack Burns, Assistant Program Director; Whitney Thompson, Social Worker; Val Cooper, Social Work Supervisor; Marissa Cullen, Unit Pharmacist; Sharon Gould, Nurse Clinician; and Susan Mariani, Care Management Department.