Dr. Rohan Ganguli Honored for 40 Years of Service at UPMC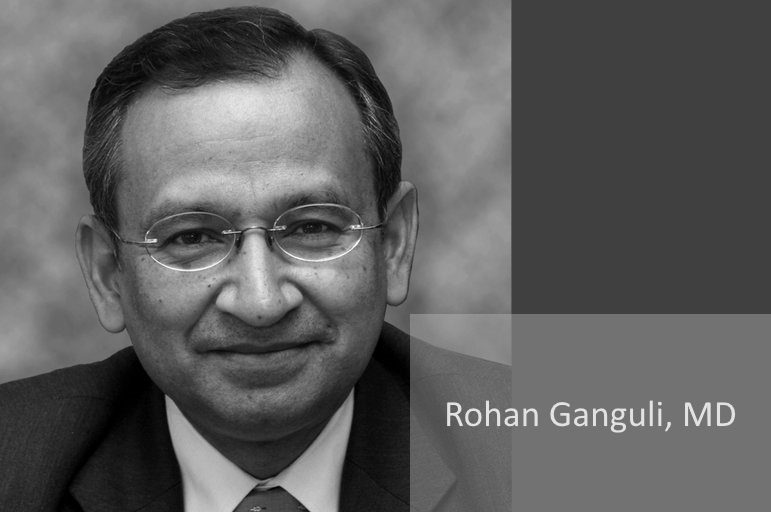 Rohan Ganguli, MD recently was recognized for his 40 years of service at UPMC. Dr. Ganguli is Chair, Department of Psychiatry, Mercy Hospital; Medical Director, Evaluation and Recovery Center, Mercy Hospital; and Professor of Psychiatry, University of Pittsburgh. He has remained with the institution since completing his psychiatry residency training at Western Psychiatric Institute and Clinic (WPIC). UPMC Mercy colleagues organized a surprise gathering in his honor to celebrate this noteworthy accomplishment.
During the last 40 years, Dr. Ganguli has served in various positions, including Vice Chair, Department of Psychiatry, University of Pittsburgh, and Chief of Clinical Services, WPIC. His work focuses on the development of interventions for individuals suffering from serious mental illnesses like schizophrenia, bipolar disorder, and other psychotic illnesses, and his research centers on developing and refining treatment strategies to reduce premature mortality in this population. Throughout his career, Dr. Ganguli has continued to provide direct clinical care for patients and their caregivers and currently is developing integrated approaches to inpatient treatment for acute care patients who need both psychiatric and non-psychiatric treatment.
"Forty years ago, as a 28-year-old graduating from residency, I was surprised, extremely grateful, and delighted when Dr. Thomas Detre, then Director of WPIC and Psychiatry Department Chair, offered me a position as Assistant Professor," said Dr. Ganguli. "Today I am still grateful and delighted that UPMC has a place for an ancient psychiatrist to continue to work on improving our care for people living with serious mental illness."
Dr. Ganguli has received research grants from the NIMH, Canadian Institutes of Health Research, Public Health Agency of Canada, Canadian Diabetes Association, Stanley Research Foundation, and the National Alliance for Research in Schizophrenia and Depression (NARSAD). He also has received numerous scientific awards, including the NIMH Research Scientist Development Award, NARSAD Established Investigator Award, Psychiatrist of the Year and Professional of the Year awards from the National Alliance for Mental Illness, Indo American Psychiatric Association Scientific Award, 2012 Gold Medal for Scientific Achievement from the Canadian Association of Physicians of Indian Heritage, and 2012 President's Award from the Pennsylvania Community Providers' Association. 
Join us in congratulating Dr. Ganguli on this impressive accomplishment!