Department Welcomes Lori Scott, PhD to Faculty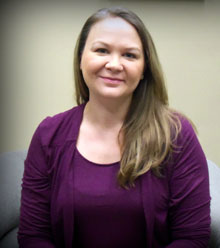 The Department of Psychiatry is pleased to welcome Lori Scott, PhD to its faculty as an Assistant Professor of Psychiatry.  
Dr. Scott is a graduate of Pennsylvania State University where she earned a Master?s degree (2007) and a doctorate degree (2011) in Clinical Psychology.  She first became interested in the study of emotion dysregulation, aggression, and borderline personality disorder as a student at Penn State.  As a graduate student, she was trained in empirically supported treatments for personality disorders and pursued research studies on borderline personality disorder with support from the National Institute of Mental Health. In recognition of her academic accomplishments and research activities, she received the American Psychological Association Dissertation Award, the Pennsylvania Psychological Foundation Education Award, and numerous awards from Penn State University including the Award for Research with Diverse Populations and the College of Liberal Arts Dissertation Award.  
After earning her PhD, Dr. Scott obtained further clinical and research training focused on borderline personality disorder through the Clinical Psychology Internship program at Western Psychiatric Institute and Clinic of UPMC and the federally-funded T32 Clinical Research Training Program for Psychologists at the University of Pittsburgh.  Working closely with her mentors, Drs. Paul Pilkonis and Stephanie Stepp, she collaborated on a series of studies concentrating on the development and maintenance of borderline personality disorder that resulted in peer-reviewed publications in the Journal of Personality Disorders, Comprehensive Psychiatry, Development and Psychopathology, and other prominent scientific journals. Dr. Scott has also presented her work at several scientific conferences and the annual meetings of the American Psychological Association, Association for Psychological Science, and the International Society for the Study of Personality Disorders, among others.  Currently, Dr. Scott is investigating aggressive behavior and borderline personality disorder features in a community sample of at-risk young women with support from a K01 career development award from the National Institute of Mental Health.
In addition to directing her own research projects, Dr. Scott is a frequent reviewer for several leading scientific journals and has been actively engaged in teaching medical students and leading workshops within the community on empirically supported treatments for borderline personality disorder.
Please join us in welcoming Dr. Scott to the Department!