CEFDP Welcomes New Class
Clinician Educator Faculty Development Program
Welcomes New Class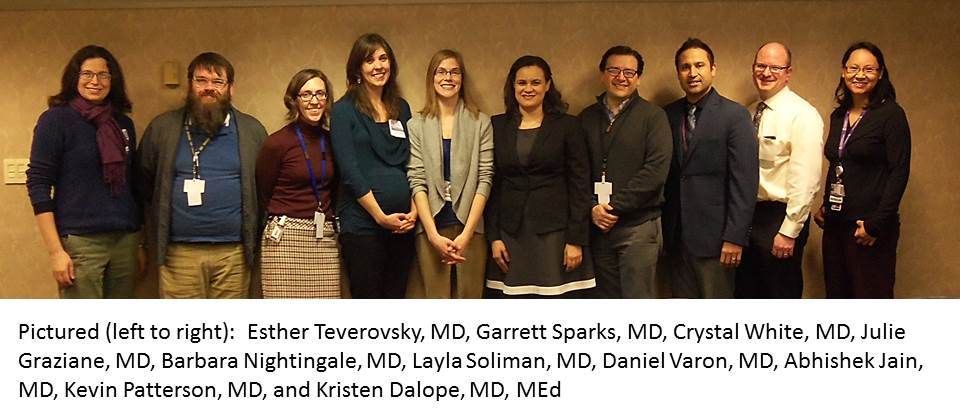 The Department of Psychiatry has welcomed a new class to the Clinician Educator Faculty Development Program (CEFDP).  Led by Dr. James Tew, Jr., Director, and Dr. Alexis Fertig, Co-Director, this innovative program provides support and resources to help early career clinician educators achieve their career development goals.  
The new class is representative of the diverse interests of the Department?s clinician educators both in terms of medical education and enhancing clinical care for consumers across the life span.  
Training and Education
As a resident in the WPIC Triple Board Program, Kristin Dalope, MD benefitted from her training in pediatrics, adult psychiatry, and child and adolescent psychiatry. As a member of the faculty, she partnered with colleagues in that program on a project that examined the challenges that were overcome to develop and implement a Triple Board program, and is developing an academic product to disseminate those findings.
Layla Soliman, MD is interested in violence within families of mentally ill patients, as well as assessment of violence risk in patients.  Drawing on her clinical experience, she is developing curricula on assessing risk for suicide and violence for students and trainees rotating through WPIC?s General Adult Inpatient Units. 
In both her teaching and clinical activities, Crystal White, MD sees the important link between geriatric psychiatry and family medicine.  In addition to teaching medical students and residents, Dr. White is educating primary care physicians, nurse practitioners, and nursing home staff to improve behavioral health care. 
Daniel Varon, MD is also interested in enhancing medical education and training, particularly for residents and geriatric fellows.  He is working with Dr. Michael Travis and others to integrate neuroscience into the psychiatric curriculum through the development of innovative learning tools.
Behavioral Health Integration
Integration of behavioral health care in other settings provides an opportunity to improve access to care and meet both the physical and mental health needs of consumers.   Kevin Patterson, MD is an advocate for improving access to care.  In addition to teaching and writing about behavioral health integration, he is collaborating with colleagues in Palliative Care and Oncology to provide mental health services in those settings.
As a clinician, Barbara Nightingale, MD cares for a lot of patients with chronic medical and mental health conditions.  Utilizing her training and skills in Motivational Interviewing, Dr. Nightingale is developing a course focusing on that technique to improve the management of chronic medical conditions. 
Meeting the Needs of Different Populations
Caring for children and adolescents, especially at-risk youth, can present unique challenges.  Garrett Sparks, MD is developing a model for delivering integrated longitudinal psychiatric care to foster children in Allegheny County, who are among the most vulnerable to psychiatric illness and lack of care.  
Esther Teverovsky, MD is collaborating on a quality improvement project with colleagues in WPIC?s BEST program, a novel outpatient program that includes groups, individual therapy, and medication management.  She is also developing a curriculum to help trainees write concise discharge summaries to improve after care.
As Director of the Forensic Psychiatry Fellowship, Abhishek Jain, MD is leading efforts to train and mentor residents pursuing careers in this important area.  Dr. Jain also has played a key role in the development of the Forensic Risk Assessment, Management, and Education (FRAME) Consultation Service at Western Psychiatric Institute and Clinic of UPMC (WPIC).