Register Now for the Eighth Annual Clinician Educator Showcase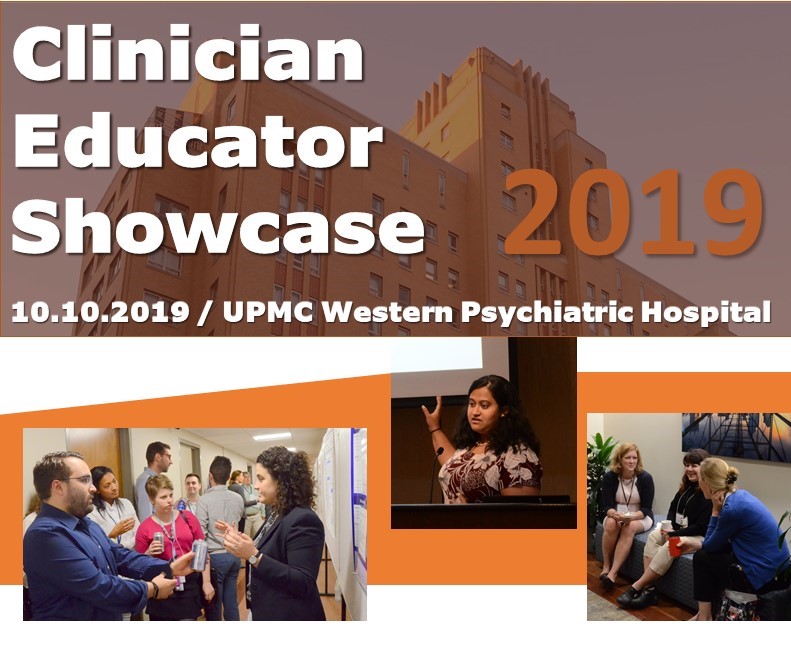 It's time to register for the Eighth Annual Clinician Educator Showcase on October 10, 2019. This special event, hosted by the Department of Psychiatry and UPMC Western Psychiatric Hospital with the generous support from Community Care Behavioral Health, celebrates the achievements of our talented clinician educators and staff. 
The day includes a fast-paced plenary session, breakout sessions on career development and clinical topics, and numerous networking opportunities. During the plenary session, the popular Speed Dat(a)ing will again highlight innovative projects led by our psychiatry residents; Camellia Herisko, our Vice President of Operations and Patient Care Services and Chief Nursing Officer, will address "Converting Tension into Teams: Making Interdisciplinary Behavioral Health Care Effective"; and Drs. Jason Rosenstock and Jamie Tew will duel in demonstrating competing teaching styles!
Breakout sessions, led by experts from the Department of Psychiatry and Western Psychiatric Hospital, will address the following topics:
Setting Boundaries with Patients in the Emergency Room, Inpatient, and Outpatient Settings

Telepsychiatry: Improving Access to Care

Collaboration and Communication across the Continuum of Care

Patient Safety: Demystifying Concepts and root Cause Analyses

Using Pecha-Kucha and Chalk Talk Formats for Effective Communication

Hands-on tips for using CERNER and EPIC
Faculty, clinicians, staff, residents, medical students, and psychology interns in the Department of Psychiatry and our colleagues in the Western Psychiatric Hospital community are invited to attend. Lunch will be provided for all registrants and light refreshments will be served during the afternoon break. Registration is open now through October 3rd. Visit the Events page for details about this year's program and to register online. Read a recap of last year's Showcase on our news site.