Faculty in the Spotlight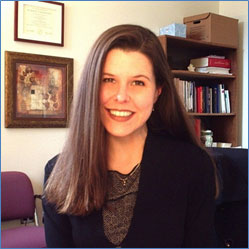 Cynthia A. Conklin, PhD
Associate Professor of Psychiatry
Cynthia Conklin, PhD, has been known for her inquisitive nature and passion for her work throughout her academic career. Her interest in addiction and tobacco/nicotine research began during her graduate training at Purdue University, where she earned Master's and doctoral degrees in Clinical Psychology under the mentorship of Dr. Stephen Tiffany and was awarded the James D. Linden Award, presented to the graduate student who best exemplifies the scientist practitioner model of clinical psychology.
Following a one-year Clinical Psychology internship at the Medical University of South Carolina, Dr. Conklin relocated to Pittsburgh in 2001 to begin her appointment as a postdoctoral fellow in the University of Pittsburgh Cardiovascular Behavioral Medicine Research Program. As a postdoctoral fellow, Dr. Conklin trained with Dr. Kenneth Perkins and examined the reinforcing effects of nicotine and cigarette smoking in adult smokers. She also pursued external funding to support her development of an innovative strategy to examine personalized smoking cues by giving smokers cameras and having them take photographs of the places where they regularly do and do not smoke. Her efforts resulted in a pilot grant from the Pittsburgh Mind-Body Center to conduct an exploratory study. This pilot work demonstrated the feasibility of having smokers create their own photographic stimuli materials and launched Dr. Conklin's independent research career focusing on proximal and distal smoking cues, and the impact of personalizing those cues on subjective and physiological reactivity in adult smokers.
Dr. Conklin was appointed Assistant Professor of Psychiatry at the University of Pittsburgh in 2003 and was promoted to the rank of Associate Professor in 2012. She is the Principal Investigator for four R01 grants funded by the National Institute on Drug Abuse and has served as a Co-Investigator for several other federally funded projects throughout her career. This support has enabled Dr. Conklin to expand her exploration of how people, places and smoking-related objects function alone and in combination to affect both smokers' craving and actual smoking behavior when they are confronted with salient cues to smoke and to not smoke. A nationally recognized expert on nicotine dependence, smoking, cue reactivity and conditioning theory, Dr. Conklin has published her findings in Addiction , the Journal of Abnormal Psychology and numerous other scientific journals. In addition, Dr. Conklin co-authored a book aimed at treating smokers," Cognitive-Behavioral Therapy for Smoking Cessation." She also is invited to present and participate in scientific meetings, conferences and workshops locally and nationally. Dr. Conklin also gives generously of her time in service to the academic community. She is been an ad hoc reviewer for the National Institute of Drug Abuse in the U.S., and for the Italian Ministry of Health and the Netherlands Organisation for Scientific Research, and as a reviewer for several scientific journals. In addition, Dr. Conklin is an active participant on a number of committees and working groups in the Department of Psychiatry and for professional societies and organizations.
In addition to her extensive research activities, Dr. Conklin is an outstanding educator, teacher and mentor to students, fellows and junior faculty. She has helped to foster an early interest in scientific discovery among high school students by actively volunteering as a Category Judge for the Pittsburgh Regional Science and Engineering Fair. Her teaching activities at the University of Pittsburgh include serving as an instructor for the Introduction to Psychiatry course as well as Behavioral Medicine and Medical Decision Making classes for first-year medical school courses, and Dr. Conklin is a member of the Master' thesis and dissertation committees for students in the U.S. and Belgium.