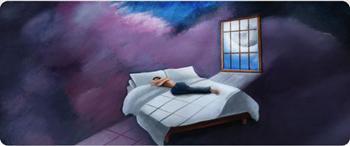 The University of Pittsburgh Sleep Medicine Institute (UPSMI) is an integrated, multi-disciplinary program encompassing research, teaching, and clinical care.

Under the leadership of Dr. David Kupfer (Director) and Drs. Daniel Buysse and Patrick Strollo, Jr. (Co-Directors), the UPSMI leverages the talent, infrastructure and resources of the University of Pittsburgh Clinical and Translational Science Institute (CTSI) and its partners to offer unique multidisciplinary training opportunities for young researchers, to support collaborative research initiatives across the lifespan with investigators from a wide range of disciplines, and to help translate promising new treatments into practice.
| | | |
| --- | --- | --- |
| David J. Kupfer, MD | Daniel J Buysse, MD | Patrick Strollo Jr, MD |
The UPSMI coordinates activities of the Sleep Research Network, a consortium of CTSA institutions established in 2007 to promote multidisciplinary research collaborations that address significant public health and mechanistic questions related to sleep medicine. The network was created to promote and facilitate collaborative projects in sleep medicine, and to attract and support the training of the next generation of sleep medicine investigators. The network comprises researchers representing 40 of the current 60 CTSA institutions across the United States.
UPSMI activities focus on four core areas: research, training, clinical interactions, and community outreach. The Institute's focus on the complex associations between sleep, health, and disease brings together experts engaged in research, clinical care, and educational programs throughout the University's Schools of the Health Sciences. The UPSMI helps to coordinate sleep medicine activities across the University, including: one of the top three NIH-funded sleep research faculties in the United States; an NIH-funded T32 training program in multidisciplinary, translational sleep medicine; the UPMC Sleep Center; and an ACGME-accredited clinical sleep medicine fellowship program.
Please visit the websites for the University of Pittsburgh Sleep Medicine Institute (www.sleep.pitt.edu) and the Sleep Research Network (www.sleepresearchnetwork.org) to learn more.