Department of Psychiatry Mourns the Passing of Gifted Scientist and Teacher James Perel, PhD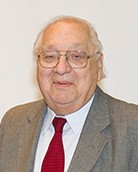 The Department of Psychiatry is mourning the recent passing of esteemed colleague James Perel, PhD, Professor Emeritus of Psychiatry and Pharmacology. Dr. Perel was a gifted scientist and teacher who was devoted to advancing pharmacologic treatments for psychiatric disorders and training the next generation of clinician educators and academic scientists. 
Dr. Perel held academic appointments at New York University, Emory University, and Columbia University before joining the University of Pittsburgh faculty in 1979. He served in several academic and clinical leadership positions during his career in Pittsburgh including Acting Chairman of the Department of Pharmacology, Director of the Clinical Pharmacology Program at Western Psychiatric Institute and Clinic, and Chief of the Clinical Pharmacology Service for the Veteran's Administration Medical Center located on Highland Drive. 
A talented scientist, Dr. Perel's research interests focused on the study of mechanisms of psychotropic drug actions and predicting ultimate individual response of special populations using biomarker and pharmacogenetic profiling of antidepressants. Dr. Perel was highly collaborative and a key investigator for a wide array of translational research projects led by colleagues at the University of Pittsburgh and other institutions. His impressive publication portfolio included over 330 peer reviewed articles. Dr. Perel's findings substantially contributed to our understanding of the effects of pharmacologic interventions in mood disorders. 
Dr. Perel was widely respected by his peers and colleagues for his extensive knowledge of the literature and his passion for sharing his expertise. Dr. Boris Birmaher collaborated on several projects with Dr. Perel and described him as the "maestro" of psychopharmacology. "Dr. Perel was affable and kind, going above and beyond to help," he said. "He was our pharmacological "Google" or "Ovid" with an office full of articles everywhere, but somehow he knew exactly where to find information on a particular subject to share with anyone who approached him. He will be missed." His colleague, Mary Amanda Dew, PhD, added that Dr. Perel's "gentle, patient manner was especially appreciated by those of us without extensive psychopharmacology backgrounds.  He could make psychopharmacology come alive!" 
Dr. Perel's legacy includes his dedication to medical education, training and mentorship as well as his significant scientific accomplishments. His superb teaching skills and thoughtful mentorship have had a substantial impact on the training and careers of numerous graduate students, junior research scientists, and health care providers. 
"I will greatly miss my afternoon talks with him," said Neal Ryan, MD, who collaborated extensively with Dr. Perel. "He was a valuable mentor for me as he was for so many others.  When I would bring him a question, he knew the answer, he knew the reference, and he could go directly to one of the many deep stacks of papers in his office and magically pull that paper out on the first try.  It was perhaps the best magic trick I've ever seen."  
Jason Rosenstock, MD, Director of Medical Student Education for the Department of Psychiatry, described Dr. Perel was "an icon in the department, a shining light, both as a researcher and an educator.  He was a generous collaborator, always willing to share his expertise with trainees. He created and served as course director for the Neuropharmacology elective that became the most popular elective in our department. Dr. Perel worked with dozens of students every year, sharing his knowledge of and passion for pharmacology, and helping to inspire the next generation of physicians to think critically about the way medications work in the brain and body."
In recognition of his many scientific achievements and academic productivity, Dr. Perel was presented with numerous honors and awards including his selection as a member of the American Society for Clinical Pharmacology and Therapeutics Century of Therapeutics and Science, 1900-2000 Honor Roll and his designation by the Institute for Scientific Information in 2002 as one of the top 1.5% most cited authors for the period spanning 1982 to 1999.  He was particularly proud of receiving a Clinician Educator of the Year award from the University of Pittsburgh School of Medicine in 2013 for his superb teaching activities. 
Dr. Perel's work will have a lasting influence on the research and practice of psychopharmacology for years to come.